Interview
Carmakers Won't be the Ones Steering the Development of Driverless Vehicles
Israeli startup Arbe Robotics is making autonomous driving a reality while also increasing safety in all cars in the meantime
Futurists have been predicting the coming of autonomous driving for many decades now. But while billions of dollars have been invested in the dream, it has yet to be realized. There is, however, no doubt that we are closer than ever to being chauffeured around by a computer-controlled car, with Amnon Shashua, CEO and founding partner of Mobileye and senior vice president of Intel, declaring earlier this week the companies' intention to offer a robotaxi service, with no safety drivers, in early 2022.
One company helping to make this a reality and aiming to become a major player in the future of autonomous driving, while also increasing safety in all cars in the meantime, is Arbe Robotics Ltd.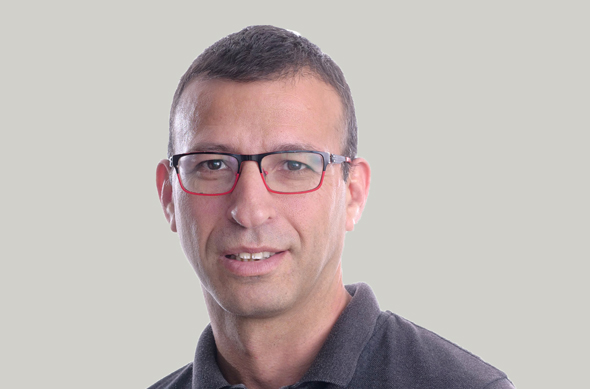 Kobi Marenko, co-founder and CEO of Arbe Robotics. Photo: Arbe Robotics
The Israeli startup released its processor chip to complete its imaging radar chipset solution earlier this month, making it the first dedicated automotive-radar processing chipset. The 4D imaging radar chipset solution, enabling high-resolution sensing for ADAS (advanced driver-assistance systems) and autonomous vehicles, provides according to the company, more powerful processing, low latency, low power, and cuts the costs significantly when comparing the price to other capable radar processing solutions on the market.
"The fact that today we have a processor after already launching our transmitter and receiver last year allows us to provide a complete chipset and essentially a complete system to be installed in vehicles," Arbe co-founder and CEO Kobi Marenko told CTech. "We sell our chips to Tier 1 car manufacturers. They take our chips, our reference design and manufacture a complete radar. The product we provide is basically the size of a cellphone. This gives the car a long-distance high-resolution radar. It allows it to create a 4D image of the world. It provides almost the quality of a camera, but with all the advantages of a radar. It works in any weather condition, day and night, and reaches 300 meters, and all with very high resolution."
Founded in 2015 by Marenko, Noam Arkind (CTO) and Oz Fixman (COO), Arbe has secured $55 million from investors to date, including Canaan Partners Israel, iAngels, 360 Capital Partners, Catalyst CEL, AI Alliance, BAIC Capital, MissionBlue Capital, O.G. Tech Ventures, Maniv Mobility, Taya Ventures and OurCrowd. Arbe, which employs around 65 people, is based in Tel Aviv and has offices in the U.S. and China.
"Noam, the CTO, is the brains behind the company. The company was founded after he completed his Ph.D. in the robotics lab at the Weizmann Institute. He came with the goal of solving the main problem of autonomous movement which is sensors. So we decided to develop chips for the ultimate sensor," Marenko explained, with the company's products already helping manufacturers meet Euro NCAP safety standards. "The car industry has the most complex standards in the silicon industry so if you can manage to succeed there and solve the problem while also achieving your goals from a price and quality standpoint, everything will be easier going forward."
The automotive industry was not spared by the coronavirus (Covid-19) pandemic, with factories closing around the world and sales plummeting. Marenko said Arbe wasn't significantly affected but nevertheless chose to cut expenses. "There is definitely an effect as many of the car companies shut down their factories. Most of them have yet to return to work, other than in China. A lot of projects planned for the next couple of years were postponed, canceled, or cut down. As our technology is more for the long term we weren't hurt so seriously, but there is no doubt that the fact companies didn't sell any cars for two months is going to have a significant impact on the car industry and on its ability to innovate," Marenko said. "We have quite a bit of activity in the Chinese market and they are back in full work mode there. The Chinese authorities also listed autonomous driving among the five fields they wanted to promote post-coronavirus, so there is a real blossoming of the sector in China. We put a very small number of employees on leave without pay. Most of our cuts were made opposite contractors and we also reduced salaries in order to avoid having to fire employees. I think that anyone who doesn't reduce their expenses during this time is almost irresponsible."
Marenko believes coronavirus will also affect the future of the driverless industry. "I think that the development of autonomous driving will be delayed and that it will ultimately not be in the hands of the auto manufacturers. I can't see a scenario in which the car manufacturers are able to afford it, leaving the likes of Google, Weymo, Cruise, and maybe a Chinese company to lead the way," he said. "They are already one step ahead of the car companies. And the first thing the car companies will stop investing in is these technologies. Full autonomous driving and robotaxis will be a business for the big tech companies."
Marenko said that Arbe is trying to solve the biggest issues currently holding back autonomous driving. "The main advantage of our technology, beyond the fact that it can work in almost any condition, is the price. We are talking about $100-$150 for a radar per car. There are several Tier 1 companies that have selected our chipset for their next-generation radar and we also have several joint R&D projects. We can't provide any details on any deals at this time, but leading car manufacturers are certainly planning on using our product.
"The biggest problem with autonomous cars today is that Google cars, for example, are driving around with a server farm strong enough to run YouTube. If you open the boot of one of these cars you will see stacks and stacks of servers and this makes it impractical. They say that the sensors currently being used in autonomous cars cost over $250,000. For the price to be reasonable it needs to drop below $1,500," Marenko added. "This isn't something that can be achieved with some small improvements. We are working on making a silicon breakthrough that will allow us to put our technology into mass production at reasonable prices while also still providing a full solution for the safety of the driver. We provide a very open platform that allows for a significant upgrade in the capabilities of the car at a price that is almost cheaper than the set of sensors that is currently part of the car. We would like to be the ones to actually manufacture the cars, but we know our place and we will be the silicon that enables the HD radar and the fusion with the camera."