Survey: 73% of Business Travelers Would be Willing to Pay More for Strict Hygiene Restrictions
Tel Aviv-based Arbitrip operates an online services for companies to book hotel rooms for their employees
Approximately 73% of business travelers would be willing to pay more for their travel for hotels and airlines with strict health and hygiene practices, according to a report published last week by Tel Aviv-based business travel startup Arbitrip, incorporated as Arigato Advanced Travel Technology Ltd.

The survey was global and was answered by 300 respondents.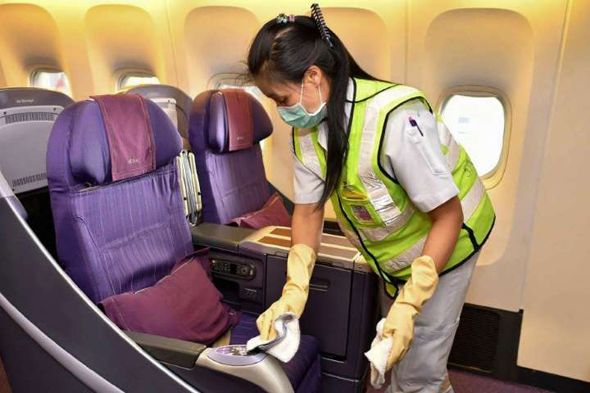 An employee sterilizes the seats on a plane. Photo: AFP

Most of the respondents, 53% to be exact, assume their company will return to allow business trips between July and September (Q3) of 2020.

Nearly half of those asked said that virtual meetings will replace business travel in 30-70% of business trips following the coronavirus epidemic.

The most important factor when choosing a hotel was health, safety, and hygiene standards, followed by a hotel's cancellation policy, and then proximity to a destination. Less than half of respondents said customer reviews were important in their decision whether to book a hotel.

Arbitrip operates an online service for companies to book hotel rooms for their employees. The company uses machine learning algorithms to study user preferences and booking requirements and scours the web for matching accommodations. Arbitrip's economic model is not based on payment for the use of the system, but on fees from hotels and suppliers with whom they work, similar to travel agencies. The company has raised $5 million to date, according to company statements.