Coronavirus
WFH, Webinars, and Zoom Meetings: What Coronavirus-Imposed Workplace Transitions Are Here to Stay?
Calcalist examines eight shifts that were forced on us by Covid-19 and asks which were only temporary and which one we cannot live (and work) without
Humans are adaptive creatures. Things that, six months ago, seemed inconceivable are now an integral part of our daily life. We no longer shake hands, we speak to each other on video conference calls instead of in-person, and we work under difficult conditions, including with kids on our laps. It all happened so quickly and we got used to everything. Terms like "flattening the curve," "exponential growth," "exit strategy," or "the new normal," which have rapidly taken over our conversations, emphasize the speed and force of the changes we have gone through. The coronavirus (Covid-19) crisis has, without a doubt, altered the way we work as everything once performed in the real world suddenly shifted to the web.

The return to normalcy is happening quickly too. Suddenly everything is open, employees are returning to the offices, and children are going back to school. Pretty soon restaurants and coffee shops will open in Israel too. Have we really adapted to this new routine or will the changes we experienced due to Covid-19 be merely temporary?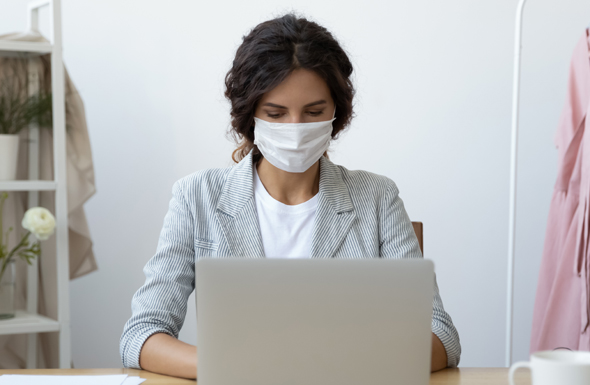 Working from home during Coronavirus pandemic. Photo: Shutterstock

Working from home

The undisputed leader, when it comes to coronavirus' impact on the workplace, is work from home. Any company that could, sent its employees to work from home even before government regulations required them to. The debate over work from home practices did not start with Covid-19, but the outbreak certainly hurried things along, forcing companies that wanted to keep operating to allow employees to do so even if in the past they were in no rush to allow it. While Twitter told its workers that they can continue to work from home regardless of the pandemic, Apple opted to bring employees back to the office gradually. Facebook, meanwhile, announced it was planning to pivot a large part of its workforce to work from home over the coming decade and shift to a decentralized workforce.

"People talk about work from home, but the definition itself is a mistake. Home is meant for other things, but the concept of remote work or decentralized work will stay on," Yossi Ackerman, former president of Elbit Systems Ltd. and the founding partner of the Open Valley chain of entrepreneurship centers, told Calcalist. "Covid-19 proved that you could get results from a distance and many CEOs are questioning whether it is necessary for all employees to work from a single location every day, without exceptions," he said. "I too, when I was president of Elbit, didn't believe in working remotely, but the outbreak proved that it wasn't as bad as we had feared. Work from home may not remain in place completely, most people will go back to their offices and the way things were before, but not everyone. Some companies, for example, may decide that 20% of employees will continue to work remotely. There will be more flexibility and organizations will be less vehement in their opposition to work from home."

Work from home amid the pandemic was something of a paradigm shift for many organizations, according to Avi Snir, co-founder and CEO of tech-oriented training school Elevation Academy. "For many organizations shifting to work from home was not the result of a decision, they had no choice," Shir told Calcalist. "Once they made the shift and saw that it works and saves employees time, it is hard for employers to argue that it is impossible or ineffective. Maybe not everyone will work from home, but there will be much more flexibility," he said.

While for large companies, returning to the office may pose a logistical problem, for small startups there is supposedly little to prevent them from going back to working in a central physical location. However, the possibility of remote work has become a strategic decision and their considerations have changed. "One of the biggest challenges for startups is their desire not to be outdone by companies like Amazon, Facebook, or other startups and they have to spend a large part of their budgets on expensive office space," Zack Weisfeld, general manager of Intel's Israeli startup accelerator Ignite, told Calcalist. "Many startups recognized the cost-effectiveness of work from home. They and their investors are asking themselves whether it is preferable to spend the $200,000 they pay a year for offices in central Tel Aviv on two additional engineers instead. It is a dramatic decision for startups that operate on a budget that, now more than ever, needs to be stretched out. It is a financial issue that questions the validity of the axiom that without offices in a trendy tech hub, they are at a disadvantage," he said.

One conception that Covid-19 work from home practices have already altered is the measurement of workers' performance by their number of work hours. It is extremely difficult to monitor employee working hours without violating their privacy when they work from home, but productivity and task completion can be measured. Therefore, instead of defining positions by working hours, definitions and success might shift to productivity and ability to meet goals.

Conferences and exhibitions

Conferences and tradeshows are an inseparable part of the business world. During the outbreak they were canceled one after the other and then, shortly thereafter, they re-emerged as online events. Conferences and meetups are designed to teach, but mostly serve as a platform for mingling and networking. Some questions raised by this development are: how do you do that online? Can the advantages of face-to-face meetings be translated into the digital space? Do we want them to? Will webinars and virtual conferences remain with us after the restrictions on large gatherings are lifted?

"In my mind, webinars were always meant to achieve a specific purpose, nearly exclusively as a tool for companies to pass on information to a large number of people, in many cases for the implementation of a specific product," Eyal Hoffman, managing partner at urban tech innovation center and startup launchpad Highroad, told Calcalist. 'Clearly that definition was very limited, but I have yet to encounter enough webinars that are relevant to me and definitely haven't been drawn to take part in enough to change my perception of them as a tool," he said. "But then Covid-19 came around. It radically and suddenly shifted a lot of our perceptions about things we used to view as trivial, so much so that we had stopped thinking about how and why we do things and whether they can be done differently. This shift is particularly note-worthy when it comes to conferences and business events, which drove a major boost in webinars. The question is whether this is a temporary shift, that was forced upon us, or whether they are here to stay."

Similarly to work from home, the shift to the virtual space made even conference addicts recognize previously unimaginable benefits. "We suddenly discovered that it was easier getting people to convene around a virtual table," Hoffman said. "Online, it is easier to sync calendars, even across different time zones and the opposite side of the globe is as close as the building next door, that's the beauty of it," he added. "My conclusion is that all our future physical conferences will be broadcast online too," he said. "It may take a while, but physical conferences will return too. People will continue to travel for business meetings and events, but they will remember that it can be done otherwise. The webinar scene has its advantages and disadvantages, but it is now clear that it is an adequate substitute and sometimes even preferable to physical meetups."

Recruiting talent

The labor market has changed following the financial crisis. People are more willing to compromise on wages and the sort of company they work for. But these are changes brought about by the recession and can be put to the side. Additional changes when it comes to recruiting teams have to do with shifts in working practices, including office location and the lavish material benefits offered to lure in talent.

"Until three months ago, the reality was that you couldn't hire top talent without having offices in trendy buildings or hubs in Tel Aviv. Today there is an opportunity to recruit people who don't live in Tel Aviv and won't work out of Tel Aviv, because workers can still be productive from home and can come in to the office just two days a week," Weisfeld said.

The war over top talent did not only change because their demands are now more modest, they are also focused on different things. "The tech industry used to compete over talent by offering them material benefits like business-class flights, lavish events, gym subscriptions, private chefs, and the like," Sharon Friedman-Dor, vice president of human resources at Tel Aviv-based Bringg Delivery Technologies Ltd., told Calcalist. "People have come to realize that what's important is to work for a company that is stable, has potential, and offers a product that is relevant to the market," she said. "Instead of perks, we decided to allocate resources to things like training and professional enrichment that can provide workers with better long-term job security."

Remote learning

A conceptual breakthrough also occurred when it comes to remote learning, both in academia and at the workplace. Within days, universities shifted to online courses and even organizations that had resisted doing so, were forced to quickly move to remote training.

"We put a lot of thought into combining online learning, independent learning, and classroom learning in a way that would increase involvement and concentration," said Friedman-Dor. "We are seeing that, in light of the crisis, many barriers were removed. Companies that had opposed it, are now much more accepting of alternatives to classroom learning. It's not that training in a joint physical location will cease, but there will be more flexibility when choosing between options," she said.

Organizational culture

Remote work has produced challenges when it comes to organizational culture and workforce retention. How can you maintain an atmosphere, culture, and feeling of belonging when the workers are not present in the office? How do you retain veteran workers or forge a connection with new ones? Does the fact that everyone is working remotely change the organizational hierarchy or workflow?

"Companies like Google and Facebook had cultivated the remote work culture even prior to Covid-19," Weisfeld said. "People got used to there being an organizational structure and culture, even when they don't come into the office. Other, younger companies that don't have a remote work culture face the challenge of holding on to their employees over time," he said. "We know that in San Francisco people leave jobs that offer luxurious offices and excellent benefits after six months, so startups that allow work from home and, at least in the beginning, do not have an emotional attachment with the workers, may face problems keeping them on board."

When geographic location no longer play a role, it can have an impact on hierarchy and organizational structure too. "We discovered that the organization became completely flat," Keren Halperin, vice president of HR at ad-blocking startup NamogooTechnologies Ltd., told Calcalist. "Teams were formed working in complete sync from all over the world. This period taught us the critical importance of a strong organizational culture, where workers are committed, feel connected to their goals, and feel like they have the ability to make an impact," she said. "During that time, since physical location was less significant, we turned all our local activities, such as training sessions, update meetings, and joint exercise classes,, into global activities," she added.

Family and the workplace

When our homes became our workplace, when we invited our colleagues, bosses, and clients into our house via video chats, the lines between work and personal life, which were already blurred, nearly completely disappeared. It became legitimate to experience interruptions by children forced to stay home from school or for a spouse to enter the frame. For some employees, work-life seeping into the home-life and the inability to separate the two caused them stress and corrosion. For others it was a realization that they could do things differently. The issue of work-life balance received a twist while we were in lockdown and it may impact the way people work in the future.

"For years, we have been talking about the phenomena of tech orphans," Weisfeld said. "But something very significant happened during this crisis that reconnected us to the family core. It created a connection that even if all travel restrictions are removed will leave us wanting more, a connection that will lead us to dedicate a larger place in our lives to our homes because we went totally overboard," he said. "When I used to work for Microsoft there were months when I'd only be home for four days. I'm seeing many of my friends who are constantly abroad. I hope that some of that will change because we learned we can survive without the madness," he added.

Entering the homes of our colleagues via video calls and the exposure that it involves provided workplace relations with a new dimension. "The family circle became part of the workplace," Halperin said. According to her, the change in work patterns enabled a deeper familiarity with the workers. "Thanks to the coronavirus, we found out about our workers' hobbies and decided to create an exhibit of their handiwork," she said.

While deeper familiarity between employees and their colleagues and managers was a positive outcome of working from home, other side-effects were less positive. Many people had a tough time disconnecting while working from home and found themselves simply working nonstop. It is clear that a better distinction between work and home life is necessary, especially for people who work remotely.

Doing more with less

During the outbreak the notion of essential workers became a defining currency. Workers suddenly asked themselves what it means that they were registered as non-essential and how they could make themselves essential to the job market in the future.

"Some people realized that they wanted to improve their position and some companies realized that they could do and expect more from their employees," Shir said. "There is no doubt that we will see that organizations must do more with their existing resources and people's roles will be expanded. Marketing people, for example, will be expected to do more in the field of data. The importance of employees skills will only increase," he said.

Zoom out?

Throughout March, when most countries shifted to remote work, the use of video calls doubled. Conversations that, in the past, would be held face-to-face or over the phone, shifted to video calls. Though the technology was available long before the virus, quarantine and stay-at-home regulations led to a growing need for human interaction and video calls were the closest thing to a face-to-face meeting.

People scheduled Zoom calls for all hours of the day. There were Zoom courses, Zoom meetups, Zoom classes for kids and Zoom family gatherings. It did not take long for the conversation to develop around Zoom fatigue, as it turns out it is more difficult to remain focused during a video chat than it is in person. With video calls we have to work harder at processing non-verbal signals like facial expressions, tone, or body language. In addition, video calls often suffer from technical malfunctions, the sound is not great, and the image gets interrupted. We also spend a lot of time looking at ourselves and our body and facial movements, which we do not do in face-to-face meetings. Looking at a mirror for many hours of the day can also be tiresome.

Video calls shorten distances, people do not have to fly or drive and can meet easily in a simulation of the real thing. The question is whether, when the circumstances permit, we will still prefer to meet on a video call or pick up the phone and schedule a meeting over a cup of coffee.