Cybersecurity-Focused VC Cyberstarts Raises $100 Million Fund
The firm also appointed Lior Simon, formerly an associate at Sequoia Capital and head of the Israel operation of Arbor Ventures, as partner
Tel Aviv-based cybersecurity-focused venture capital firm Cyberstarts has raised $100 million in commitments for its second fund, the firm announced Monday.

Cyberstarts was founded in 2018 by Gili Raanan, a serial entrepreneur and general partner at Sequoia Capital's Israeli branch. The firm focuses on early stage cyber ventures and entrepreneurs.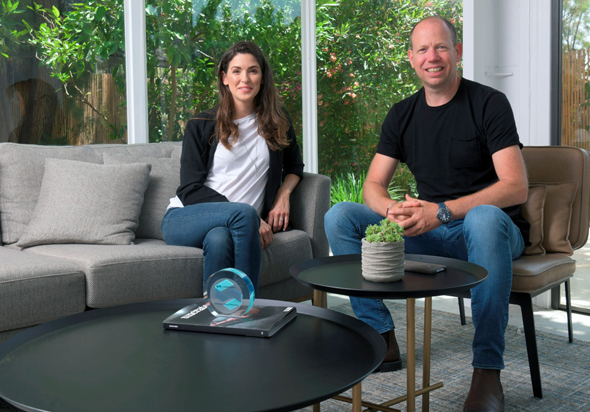 Cyberstarts CEO Gili Raanan (right) and partner Lior Simon. Photo: Yossi Zeliger

Most of Cyberstarts' funds come from a group of 40 cybersecurity entrepreneurs, including Check Point Software Technologies Ltd. co-founders Shlomo Kramer and Marius Nacht; Mickey Boodaei and Rakesh Loonkar, two of the founders of Trusteer Inc., which was acquired by IBM in 2013; Palo Alto Networks Inc. founder Nir Zuk; and Assaf Rappaport, founder of cyber startup Beyond Security and the former general manager of Microsoft Israel's development center.

Cyberstarts, which had previously raised a $54 million fund, has made six investments to date, half of them in companies led by serial entrepreneurs that are among the fund's backers. Two of the companies backed by Cyberstarts—Fireblocks Inc. and Axis Security—have raised a total of $33 million in follow-on investments, the firm said.

"The confidence expressed by our investors, the world's leading cybersecurity minds, especially during this time of economic crisis, is a huge vote of confidence,", Raanan said in a statement. "The hunger for innovative cybersecurity solutions, particularly in times of crisis, is growing as a result of the rapid move to work-from-home, the growing transition to cloud computing and the push for automation for lowering operating costs," he added.

Cyberstarts also announced the appointment of Lior Simon as partner. Prior to joining Cyberstarts, Simon was an associate at Sequoia Capital and headed the Israel operation of Arbor Ventures.

"I am delighted to be joining forces with Gili, after years of acquaintance and joint work at Sequoia," Simon said in a statement. "This is an exciting opportunity as Cyberstarts is well-positioned to play a leading role in building substantial businesses with the most amazing entrepreneurial teams in Israel," she added.

"Cyberstarts is the Israeli cyber dream team," Rappaport said in a statement. "It is the only fund in the world established by entrepreneurs for entrepreneurs. Investor involvement in the fund goes well beyond the money invested. The help they provide us and other Cyberstarts entrepreneurs is an extremely significant and strategic asset," he added.