Exclusive
MeMed Receives Regulatory Green Light for Test that can Greatly Reduce Antibiotics Prescriptions
Israel-based company tests the immune system's reaction to infection rather than the infection itself
Israeli health company MeMed Diagnostics Ltd., which developed a test that can identify whether an infection was caused by a virus or bacteria thus significantly reducing the use of antibiotics for treatment, has received regulatory approval to put its rapid test, which can provide results within 15 minutes, on the Israeli and European market.

"After many years of development, testing, trials, and production, receiving regulatory approval now allows us to assist in the diagnosis of patients in Europe and Israel," MeMed's founder and CEO Eran Eden told Calcalist in an interview.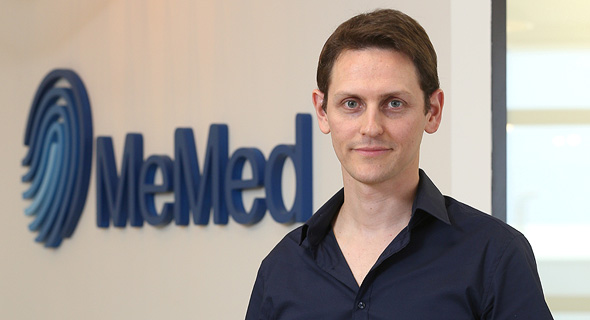 MeMEd CEO Eran Eden. Photo: Elad Gershoren

MeMed was founded in 2009 by Eden and Kafir Oved, the company's CTO. The test the company developed is able to precisely determine whether infection in patients with fever symptoms is bacterial or viral and provides doctors with important information about the type of treatment they should administer. Identifying the source of the infection is an important tool for the treating physician, helping them decide whether antibiotics are needed or not.

Rather than testing a sample of the infection, MeMed tests the immune system's response. This allows the test to be performed by a simple blood test, without having to reach the source of infection whose location can be difficult to reach or unknown. The first generation of the test offered results within two hours and required a laboratory technician. The second generation, named MeMed Key provides results in just 15 minutes and can be used at any point of care, including small and remote clinics.

MeMed has already raised $100 million from the likes of production giant Foxconn, Horizon Ventures and China's largest insurance company Ping An Global Voyager. It has also received about $30 million in grants from the European Union and the U.S. military.

"This is what every company is set up to do," Oved told Calcalist. "Companies want to arrive to market with a mature product and a desire to change reality. It's been a decade packed with development— R&D, partnerships, and intermediate stations like the first generation product. The last four years have been around building the platform. At the end of the day, there are few alternatives that can be put in place throughout the therapeutic spectrum, and the main problem is that many of them are inaccurate. We can now take technology that has developed for years and make it accessible everywhere in the Western world and in many other places too."

Eden explained that the test will initially be marketed in a relatively limited way. "We are starting to introduce it in a very controlled way because we need to increase production capacity. We are now upping our production, expanding the circle of partners to hospitals and HMOs, and then we will initiate a wider launch. In the first phase, we are focusing on Germany and Israel, while at the same time working on the approval process opposite the FDA, because the U.S. is our main target market. We will be using this year to bring the test to dozens of sites and are preparing for a wider launch in Europe and the U.S. next year, depending on the approval process. Demand currently outpaces our production capacity," he said.

MeMed is concurrently working on the development of a variety of new tests that are based on the same principle of testing the immune system's response. "The bacteria versus virus issue was the most urgent and biggest challenge, but it is now just a matter of time for us to take our principle and design completely new tests that provide additional and different medical values," said Oved. "Emergency room doctors see a wide variety of symptoms. The idea is to use the body's reaction to provide new insights, faster diagnostics, and reach quicker decisions on treatment."

In recent weeks MeMed's research has naturally pivoted towards dealing with the novel coronavirus, and according to Eden, it has been developing a new product line to meet the challenge. "In the world of Covid-19 there are a variety of diagnostic questions: one is determining whether or not there is evidence of a virus. Our platform knows how to do it, but it is not our priority because it is a field that already has many existing solutions since there are hundreds of companies in the world that do it. Our added value is in using the immune system's response to solve other problems," he explained.

One example is a test that predicts the severity of the disease and the danger of it deteriorating. "Say a patient arrives at an emergency room diagnosed as a coronavirus carrier," Eden said. "How can doctors determine whether the patient's condition is about to deteriorate and will require them to be hospitalized or are fine and can be sent home? This is a critical problem. We possess a core technology, in the form of an immune system protein that we can identify and use to predict whether or not the patient will deteriorate. It is a kind of warning light. If I have 100 patients, and two of them will deteriorate, how do we know which of them these two are? If we can narrow the list to 10 or five patients, we can significantly streamline patients' hospitalization during a pandemic. We are developing it in collaboration with some hospitals and health clinics in Israel and abroad. We have already collected over a thousand samples of Covid-19 patients, which is a large amount in just a few weeks. "

Another relevant development is the ability to determine whether a patient has an infectious disease even before the onset of symptoms. "Someone may be sick, but is not yet coughing or showing other symptoms, but since the immune system is already fighting the virus we can detect these signals," said Eden. "It complements the virus detection test because our test only detects the existence of a virus, not the virus itself. The immune system is a very sensitive sensor, and has the potential to detect the fact that there is an infection even before the virus itself can be detected. If the virus is mutated, or if there is a new pandemic, something that happens every five years, such a technology can be a preliminary screening tool capable of detecting a viral response while a virus-detection test is still being developed. We have begun to develop this capability together with the U.S. military, and many other agencies are showing interest in it. We are already collaborating with a hospital in the Netherlands to monitor pre-symptomatic people. The initial information is very interesting."