Public Transportation Payment Apps Set to go Into Use on June 25
Apps offer the ability to limit payments to the actual rides completed instead of charging a pre-paid card every month
Several new apps that allow Israelis to pay for public transportation with their smartphones are set to go into use throughout the country on June 25. First, though, they have to complete a successful pilot project and meet the requirements of the ministry of transportation.

Of the three apps that won a ministry tender to operate the service, Rav-Pass, the platform developed by HopOn and PayBox, was the first to start the pilot. Starting Sunday, 400 test passengers began paying their public transportation fares using the app.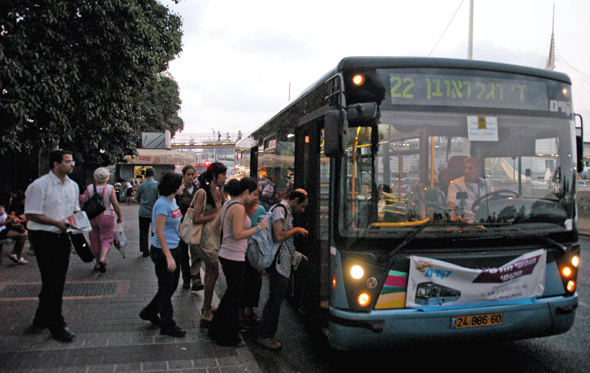 Passengers board a bus. Photo: Yuval Chen

A second app, developed by popular public transit navigation platform Moovit and smart parking operator Pango, is set to begin the pilot in the coming days. The third, developed by credit card company Isracard, was scheduled to conduct its pilot in January, but its start date was postponed indefinitely.

The novelty the apps offer is the ability to limit payments to the actual rides completed instead of charging a pre-paid card every month. Passengers who prefer to continue using the existing Rav-Kav app can continue to do so as part of the ministry's effort to increase the use of alternatives to paying with cash, especially in light of the coronavirus (Covid-19) outbreak.

The new apps will also feature new fare rates that fluctuate according to distance, but offer daily caps for inter-regional travel. The new rates will offer discounts for senior citizens, youth, and students, as well as scaling discounts for frequent public transit users.