Interview
Viola Ventures is Seeking Technologies that Combine AI and Fundamental Scientific Disciplines
After investing in Immunai, Zvika Orron is hungry for more of the same formula
Zvika Orron, a partner at Israeli early-stage venture capital firm Viola Ventures, is clearly a big believer in the potential of computational biology. So much so that he believes the AI disruption proven in traditional industries such as the automotive industry that led to the huge success story of Mobileye, which in 2017 was acquired by Intel for $15.3 billion in the largest deal Israel's tech industry has seen to date, could potentially repeat itself in the biology space.

One company hoping to one day be the next Mobileye is Israeli startup Immunai. Orron was part of the Viola and TLV Partners team that earlier this month led the company's $20 million seed round.

"The volume of data generated through modern biological research is growing exponentially and opening a great opportunity to leverage AI for providing deeper and more accurate insights to solve complex problems at a faster pace," said Orron.

Immunai was founded in January 2019 by Noam Solomon (CEO) and Luis Voloch (CTO) who were joined by Ansuman Satpathy, a professor of cancer immunology at Stanford University, Danny Wells, a current member of the Parker Institute for Cancer Immunotherapy in San Francisco, and Dan Littman, a professor of molecular immunology at New York University, all three of whom joined the team as founding scientists.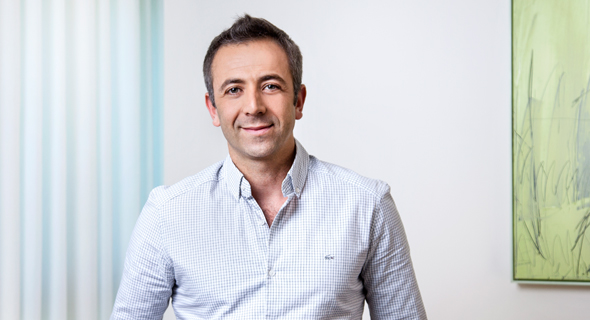 Zvika Orron, partner at VC Viola Ventures. Photo: Tamuz Rachman
Immunai is developing a technological platform that aims to map the entire immune system for better detection, diagnosis, and treatment of disease, which according to Orron has the potential to disrupt the entire pharmaceutical ecosystem.
"Mobileye is an example of how AI technology, in this case, computer vision, can disrupt an entire industry. Mobileye could have just settled for providing computer vision services to camera companies or sold its computer vision as standalone software. But instead, it chose to develop an entire end-to-end system and disrupt the auto industry. Immunai also wants to cause disruption throughout the pharma industry with its AI solution by not only providing the immune system profiling but leveraging the data as a first step to pull out insights and provide a platform that will enable a range of applications. The companies are very similar to each other in that way," Orron told CTech earlier this week. "The second similarity is that both are trying to solve multi-disciplinary problems. Mobileye needs algorithm developers, hardware developers, as well as physicists, as it is trying to solve a very complex problem. And on top of that, you need someone to bring this all together with quality system engineering and make sure it works. If there is one thing that Israel is blessed with it is system engineers. That ability to combine different disciplines and turn them into a product with the right performance and place it on the right course is essential, as is the multidisciplinary factor. With Immunai you have three disciplines that must all work together. There are the biologists who analyze the data in the lab, there is the computational biology layer and on top of that, there is the layer of AI."
Orron explained that the working premises in biology are currently fairly established and now with AI it is possible to take these premises and prove them on more use cases and diseases.
"In any blood sample you can profile a person's immune system. Immunai essentially profiles a person's immune system,"
Orron said. "And if you know all about someone's immune system you can, in theory, identify different diseases or you can, for example, tell an oncology patient which treatment is best for them, also known as a broad companion diagnostics test. You can also help the pharma companies move a lot faster in their clinical trials and ultimately develop drugs quicker."
Immunai founders Noam Solomon and Luis Voloch. Photo: Gil Kovalchik
Leveraging single-cell technologies and machine learning algorithms, Immunai has mapped out millions of immune cells and their functions, building the largest proprietary data set in the world for clinical immunological data.
"Biology expertise is becoming more and more granular and when looking for the best researchers in the world, founders may need to look outside the Israeli market. But in today's world you can set up a global company in which the AI tech could come from Israel and the biological research from across the globe," added Orron. "In Immunai's case, the founders are mathematicians by training and they joined forces with biologists from Stanford and the Parker Institute in San Francisco. We are seeing more and more AI entrepreneurs turning their sights to the field of biology and partnering with researchers outside of Israel."
The emergence of the coronavirus (Covid-19) pandemic combined with the ever-declining cost of DNA sequencing has put companies of the likes of Immunai in prime position to establish themselves in the post-corona world.
"The price of DNA sequencing is decreasing exponentially and regulation is always evolving. During the era of Covid-19 all kinds of regulatory elements were eased in order to reach a vaccine as quickly as possible. Once these two developments coincide there is suddenly a lot of data available as many clinical trials are taking place. And this allows AI to enter the picture and help accelerate the development of medicines and new diagnostic tools," said Orron. "Medicine is currently the ideal place for AI, both from a financial and a technological standpoint."
Orron added that Viola's interest in computational biology is rapidly expanding and that it is also on the lookout for innovative AI solutions combining computer science with other fundamental scientific disciplines.
"We really believe in computational biology and we want to continue and invest in this field. Israel is very new to this field, with the U.S. for example far more advanced. But this is the time to invest in Israel because we are seeing many quality entrepreneurs looking in this direction. There is great potential in Israel. We are also checking out other fields in which there is a combination of computer science with other scientific disciplines like chemistry, physics, or biology. Specifically, we want to see how AI can accelerate a known scientific phenomenon and enable business driven solutions. Right now, most of our focus is on physics and biology. In physics, for example, we are looking at the world of quantum computing which combines computer science with physics. We really believe in this multidisciplinary thesis of combining fundamental science with computer science."