Online gaming company Playtika targeting $10 billion IPO
Playtika, acquired by Chinese consortium Alpha Frontier for $4.4 billion in 2016, intends to raise around $1 billion in the IPO
Israel-based online gaming company Playtika Ltd. is planning on going public at a valuation of at least $10 billion, a person with knowledge of the plan told Calcalist under condition of anonymity.
American investment bank Morgan Stanley will advise Playtika on its IPO, which is set to go ahead over the next year. Playtika, acquired by Chinese consortium Alpha Frontier Ltd. for $4.4 billion in 2016, intends to raise around $1 billion in the IPO depending on market conditions.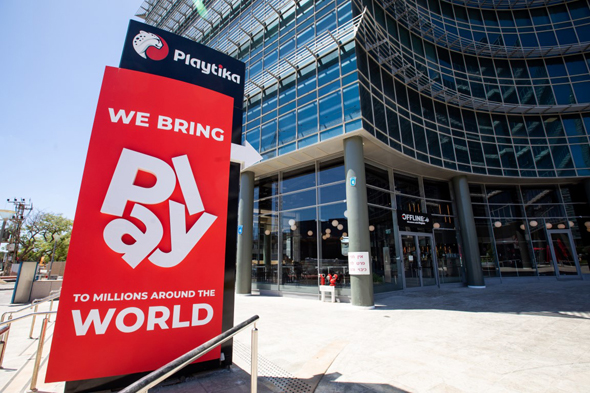 Playtika headquarters in Herzliya. Photo: Efi Sameach

Playtika told Calcalist in response: "No comment."

The $10-$12 billion evaluation of Playtika represents a 127% increase since it was bought by Alpha Frontier. American company Caesars Entertainment paid just $90 million for Playtika in 2011. Caesars is currently being traded on Nasdaq according to a value of $7.77 billion.

Playtika develops free-to-play applications and online games and reports over 27 million monthly active users. Founded in 2010, Playtika is headquartered in Herzliya and employs over 3,500 people across 10 global offices. In Israel, where its management team is located, the company employs more than 800 people.

The coronavirus (Covid-19) pandemic has resulted in a rise in demand for online games and many public companies in the sector have seen their stock price climb sharply over recent months. The timing of the IPO is certainly not coincidental according to one stock market expert who told Calcalist that "Playtika has become a powerhouse in the gaming world over recent years. It is currently competing with the biggest gaming companies, but sees itself as a content company which is competing with every other content company."

Playtika has been busy buying up smaller gaming companies over recent years, a spree which is believed to have started with the purchase of Pacific Interactive for a sum estimated at $60-$90 million in 2014. It is known to have made six separate acquisitions since, the last of which coming in August of last year when it took over Finnish mobile game publisher Seriously, incorporated as Seriously Digital Entertainment Ltd., for an estimated $275 million.

Playtika was founded in 2010 by Robert Antokol, who still serves as the company's CEO, and by Uri Shahak, who retired from the company in 2013 and is no longer a shareholder.

Playtika operates 14 different games that mainly target users on mobile platforms and on Facebook. According to the company, the games generate an income of $1 billion a year. The company operates according to the Freemium model in which a basic version of the game is offered for free but additional upgrades cost money.

Playtika's main competition in the gaming world include American content company SCIPLAY, valued at $1.8 billion on Nasdaq, Zynga, valued at $9.1 billion and French company Ubisoft Entertainment SA, which is traded in Paris according to a value of $9.4 billion.