Music to their ears: TuneFork raises $1.5 million seed round
The company's technology creates a personal audio profile for every individual user, including those suffering from hearing impairments
The coronavirus (Covid-19) outbreak has not halted investments in Israeli startups. Audio personalization technology startup TuneFork, incorporated as Listening Applications Ltd., announced on Thursday that it has completed a $1.5 million seed round led by Triventures ARC, which is a joint fund belonging to the seed investment arm of Triventures and the Sheba Medical Center.

TuneFork's technology enables an optimal hearing experience by creating a personal audio profile for every individual user. Users download the app and after completing a five-minute test, using their smart device and earphones, it produces their unique "earprint," a profile, which can be integrated into any operating or network and optimize all audio content. The software doesn't merely improve the listening experience, it can also prevent damage from incorrect settings and overcome hearing impairments.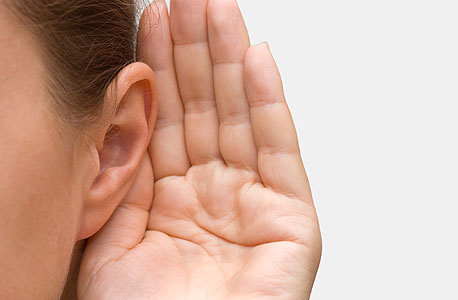 A person holding their hand to their ear. Photo: Shutterstock

The digital audio optimization enables users to calibrate their audio settings on a wide range of devices, from smartphones and tablets to televisions, desktop computers, and virtual assistants. It also works with music and video streaming services so the profile accompanies the user on any digital platform with an audio interface.

The idea for the product came after founder and CEO Tomer Shor's father was injured during his military service and suffered significant hearing loss. "Throughout childhood I watched him struggle with carrying out routine tasks like talking on the phone, watching TV, and listening to music. When looking for solutions we discovered that hearing is a highly individual sense. Every one of us has a unique earprint that is as unique as our fingerprint. But smart devices and audio systems aren't optimized for such hearing characteristics," Shor explained.

Shor was joined by his business partner Yoav Blau, whose wife suffers a similar hearing impairment and together they founded TuneFork in 2016.

Nowadays the company employs 10 people in its offices in Tel Aviv and Jerusalem and is starting a clinical trial with the goal of calibrating the hearing test conducted on the TuneFork App to standard medical hearing exams.

Triventures is the leading VC in Israel investing in the digital health sector. It has offices in Herzliya and Silicon Valley and boasts international strategic investors in the fields of health, insurance, telecommunications and technology. It is currently active in two funds: Triventures ARC, in partnership with the Sheba Medical Center, which invests in seed-stage companies, and a second fund that invests in later-stage companies.