Zoom by the numbers: Does it have what it takes to outlive its 15 minutes of glory?
The video conferencing company generated in Q1 $252 million in free cash flow on revenue of $328 million
While Israelis were conducting the Passover Seder over Zoom, studying classes remotely and holding meetings in the video communications software, the American company was busy printing money. Printing money is the most suitable way to describe the company's quarterly results for the first four months of 2020 considering Zoom generated $252 million in free cash flow on revenue of $328 million. But these rare financial figures also present Zoom with its next challenge - can it repeat these accomplishments in the future?

Zoom's first-quarter figures also included April, so they reflect the height of the lockdown period across the world from February until the end of April. There aren't many companies that received as powerful a shot in the arm as Zoom did, but it also acts as a double-edged sword. The coronavirus shined a torch on what was considered to be a fairly 'stale' corner of the tech world, causing the technology giants to wonder why they aren't involved.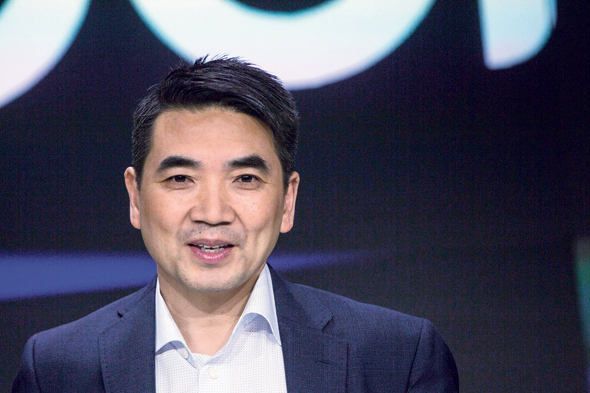 Zoom founder and CEO Eric Yuan. Photo: Bloomberg

Video conference calls haven't been a very hot sector in recent years. The technology wasn't groundbreaking and in the day and age of low-cost air travel, it was easy to hold meetings with everyone physically present. That is one of the reasons why when Zoom went public on Wall Street in April of 2019 it didn't attract too much excitement. Not only that, there were also plenty of question marks raised regarding its then value of $9 billion. Its value was mainly based on the fact that Zoom had become the default video conference call app for Silicon Valley techies who adopted it due to its simplicity. But even Eric Yuan, the founder and CEO of Zoom, couldn't hide his amazement when the company's stock jumped by 72% on the first day of trading and a few weeks later the value of the company already closed on $20 billion. "What a crazy valuation," Yuan said at the time.

Now, that Zoom is valued at $58 billion, and after the publishing of the quarterly results that met, and even surpassed, the high expectations, Yuan tried to calm the excitement for the future in a conference call. He again displayed open surprise at the rare turnaround in Zoom's status over the past year, saying that there were 3,000 people who joined the conference call, three times as many as similar calls held when quarterly results were announced during 2019.

Zoom understands that the tech gorillas won't have a very difficult time offering a similar service and that the technological threshold isn't very high. Microsoft and Google, who are part of most devices anyway, will surely not have any difficulty entering this race, should they decide to put their weight behind it. And there is also Webex, a video conferencing company bought by Cisco for $3.2 billion in 2007 and for which Yuan worked before founding Zoom. Even so, Zoom's financial figures are not insignificant and certainly reflect growth of historic proportions for a software company.

169% - Increase in revenue compared to Q1 of 2019

Zoom was expecting income of $201 million in the first quarter, but crushed those estimates by reporting income of $328 million. Zoom had never previously crossed $200 million in quarterly income. While most new Zoom users joined for free with the 40-minute limit on meetings, Zoom generates income from subscribers. Until the outbreak of Covid-19, most of Zoom's subscribers held an annual subscription which gave the company a relatively high level of certainty regarding its income. Many of the new users are relatively small businesses who chose to purchase a monthly subscription, with Zoom reporting that 30% of the companies with subscriptions have 10 employees or fewer, up from 20% in the last quarter of 2019. Most of the growth (71%) came from new clients, with Zoom now having around 265,400 customers with more than 10 employees, a number that's grown 354%. Zoom has also experienced dramatic growth in Asia, 246% compared to 150% in the U.S.

$252 million - Q1 free cash flow

The surge in new monthly subscribers is the reason for the extraordinary free cash flow of $252 million. This figure is high in relation to the overall income as well as in comparison to the modest $15 million it recorded in the first quarter of 2019. Zoom has stressed that this free cash flow will not repeat itself, as even if the company grows by a similar rate in the second quarter of 2020 it will have to make significant investments in expanding its data center to support the unexpected increase in traffic. Yuan admitted that Zoom's current infrastructure was unable to support the demand at the start of the coronavirus pandemic. The investment in expanding its cloud infrastructure and improving its cybersecurity capabilities combined with the big increases in non paying users could already be seen in Zoom's gross profit, which dropped from 80.2% in the last quarter of 2019 to 68.4% in the first quarter of 2020. Zoom is hoping to get its gross profit back in the region of 75% in the upcoming quarters.

2 trillion minutes - Meeting minutes in April

The jump in the usage of Zoom during the Covid-19 pandemic would be a significant challenge for far more established companies than Zoom.

From 100 billion meeting minutes at the end of January, the yearly rate suddenly grew to over two trillion by the end of April. Zoom had

300 million daily users, with one of the main reasons for the increase in meeting minutes being schools and universities who had to find ways to operate remotely. Many of these users don't pay for the service.

5,945 - Zoom price to earnings ratio

The Zoom share became the star of the coronavirus period and the company reached a value of $58 billion, six times its IPO valuation. Even though Zoom is a profitable company, its profit is so small ($27 million) that it is difficult to justify its current value even when taking into account its first-quarter performance. Zoom is expecting its income in the second quarter to increase even further and close on $500 million but warned that the growth is likely to slow in the second half of 2020. Zoom says it anticipates revenues around $1.8 billion for the year, double its initial prediction, representing rare growth of 189%. For the second-quarter ending in July, Zoom sees non-GAAP profits of 44 to 46 cents a share, but with a price to earnings ratio of 5,945, it may have been better off losing a bit of money and avoiding a price multiple that essentially means investors will never receive a return on their money during their lifetime. In comparison, the current price multiple averages for Nasdaq and S&P stocks is 25, with Apple being at 27, Google at 30 and Facebook at 37.

??? The great unknown - The future abandonment rate

The important figure that investors are currently missing is Zoom's future abandonment rate. Zoom has clarified that in the same way that it has experienced unstoppable growth, the rate of abandonment, especially of monthly subscribers, will be abnormal. Zoom has recruited marketing experts to try and convince current users to move to a yearly subscription, but that is not an easy task in a world that is only starting to return to normal.