DiplomaTech
As Spain slowly emerges from Covid-19 catastrophe, Israeli companies should tread carefully
Spain suffered a painful blow from the pandemic but there are still plenty of opportunities abound
Sometimes international trade is about a lot more than just money.
Take for example the recent deal between Israeli pharma company Wavelength and the Spanish government. At the height of the coronavirus (Covid-19) pandemic in Spain, when there were hundreds of daily deaths for over a month, Wavelength stepped in to provide relief. Due to the high number of people on ventilators, Spain required a large amount of the drug Cisatracurium, which acts as a muscle relaxant for intravenous administration and is used on patients that are being ventilated. Wavelength, which develops and manufactures Active Pharmaceutical Ingredients (APIs) and select Finished Dosage Forms (FDFs), had already previously sold Cisatracurium to Spain but was now being asked to provide far larger amounts due to the dire situation. With the help of the the Economic Mission in the Israeli Embassy in Spain and its head Liat Shaham, a deal was signed in mid-April in which the Spanish government agreed to pay in advance so that Wavelength could upgrade its assembly line to produce the amount required and provide Spain with a drug they so desperately needed.
Spain is not Israel's largest trade partner in the world, or in Europe for that matter. However, the economic relations between the countries are far from insignificant and according to Shaham their economies complement each other very well. Shaham added that it isn't always easy to do business in Spain, but that it is potentially well worth the effort.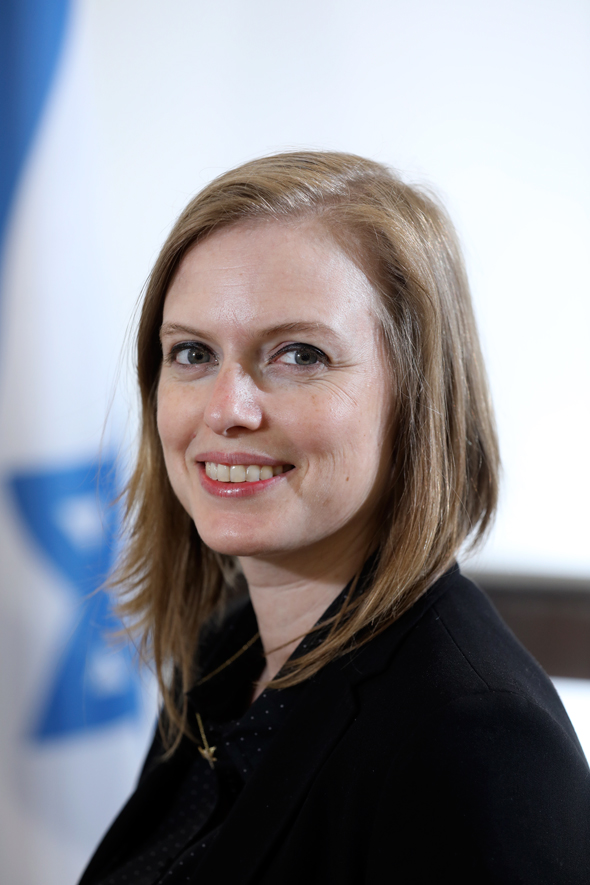 Liat Shaham, head of the Economic Mission to Spain. Photo: Gideon Sharon
"For someone on the outside, it might seem that doing business in Spain is as easy as in Germany or the United Kingdom and other places in the European Union. But there are quite a few challenges here like the language and culture," Shaham told CTech earlier this week. "If a company is already operating in Latin America or is targeting Latin America, though, it makes a lot of sense to come to Spain as well. But I wouldn't use Spain as a gateway to Europe. From a language and culture standpoint, Spain is certainly more similar to Latin America than it is to the rest of Europe. But as far as standard of living it is no different than the rest of the EU."
The European standard of living means there are opportunities abound in Spain, even after the country was ravaged by Covid-19. There have been over 27,000 reported deaths related to coronavirus in Spain, with a total of 287,000 verified cases. There has been an average of around 300 new cases over the past week, down from around a peak of 8,000 at the start of April, but only eight deaths in total over the past five days.
"Spain is taking steps towards an exit from the crisis after paying a very hefty price from a health standpoint and from an economic standpoint. The curve has been flattened and there is currently a very low number of deaths and new cases," said Shaham. "They've prepared a very detailed exit plan and it will be a very slow process. We are still officially in a state of emergency and there are still travel restrictions. Each stage in the four-stage plan is at least two weeks long and Madrid and Barcelona will likely not complete the exit plan for at least another month. Anyone who can is still working from home."
Spain doesn't plan to open to international travel at least until July 1, which would be an especially significant development considering 12% of the country's gross domestic product (GDP) comes from the tourism industry. Spain's economy shrunk 5.2% in the first quarter of the year, with the Bank of Spain saying it expects the economy to contract between 9.5%-12.4% in 2020 as a whole. The Bank is expecting the economy to grow between 6.1-8.5% in 2021.
"Spain didn't announce a state of emergency until March 15, which was relatively late. Just a few days before that everything was still open and there were mass protests and soccer matches with fans, even though it was already clear that the situation in Italy wasn't good and there were indications that the pandemic is also hitting Spain," noted Shaham. "Spain shut down completely after that, effectively paralyzing the economy. More than 20% of the workforce is on unpaid leave and it is believed that about a quarter of them will remain unemployed. The job market will reportedly not return to normal before 2026, which is of course very significant."
Nevertheless, Shaham believes that Israeli companies still have plenty of reason to come to Spain, particularly in the healthcare and cyber sectors.
"Spain is going to take a massive hit from an macroeconomic standpoint, but it must be remembered that this is a western country with 50 million people. Even with the crisis, there are opportunities here as there is a certain standard of living in the country that isn't going to drop that far since people will continue to consume," explained Shaham. "At the economic missions across the world, we focus on the micro-level. We are attentive to the overall situation but are always looking for opportunities regardless. The challenge is to find the sectors that are still working and those that might even be working more than usual and try and connect Israeli companies to these opportunities."
The mission in Madrid has been busy at work. Representatives from the Jerusalem light rail were supposed to be coming to Spain to identify possible candidates for the Blue line tender, but instead, Shaham and her team helped organize online meetings with some of Spain's big infrastructure companies and Spain's train union to see if there are Spanish companies that can participate in the project. The mission is also working with the World Tourism Organization, which has headquarters in Madrid. "We want to organize an activity with the World Tourism Organization to identify technologies that are suitable for the time of coronavirus," said Shaham.
The mission organized a food tech showcase for Spanish companies last month, introducing Israeli supply chain solutions, and will host a three-day event presenting cyber solutions in mid-June.
"The challenge is to find the places in which there is still an interest in technology. We make sure not to force ourselves on anyone and to be very sensitive to the situation. You don't want to approach someone who might be ill or may have lost someone in his family and straight away try and make a sale. You have to be very sensitive and make it a win-win situation for all parties," said Shaham
While the pandemic seriously complicated doing business in Spain, Shaham believes that there is still plenty of untapped potential, with Israel's excellence in providing tech solutions perfectly complementing Spain's massive corporations in their infrastructure projects across the world.
"Anyone who comes to Spain needs to understand the state of the economy they are coming to. The fact that Israel is recovering doesn't mean the other side is also in the same position. You need to know what state your sector is in before coming. There are sectors which are open to offers but there are others which at this time I wouldn't try and approach in Spain," said Shaham. "I don't think Spain's big infrastructure companies are well known enough in Israel. They really are big and can also be relevant to projects in Israel and Latin America. Cooperation with them can also lead to cooperation in projects in a third country. Anything to do with transport, water and energy, and related smart solutions can be relevant. If a company, for example, has a smart solution in the energy sector it should get to know these corporations that have projects in the sector across the world. Israel excels at companies with technological solutions while Spain excels at infrastructure projects. A collaboration between the two can be very beneficial for both parties and I don't think they currently know each other well enough. We are working very hard on improving that, but there is still plenty of unrealized potential."