Pitango raises $175 million for new fund focusing on seed and early-stage companies
The company said it is looking for entrepreneurs seeking to make a change in the world with their tech
Israel-based Pitango Venture Capital is set to complete a new $175 million fund, which will be its eighth, according to filings it submitted to the U.S. Securities and Exchange Commission. The fund, which will be named Pitango Venture Capital 8, will invest in young startups as early as seed round stage. The fund has already raised most of its target amount and can start investing. Pitango's early-stage investment team includes Ayal Itzkovitz, Eyal Niv, Yair Cassuto, Gad Huldai, and Sapir Ben-Harosh, alongside two of the founders Chemi Peres and Rami Kalish.

"Pitango's early-stage fund invests very early on in companies that develop breakthrough solutions to significant problems. We focus on joining forces with extraordinary entrepreneurs who have the vision to build leading companies and are not afraid of defining new categories," the company said in a statement. "The fund will specialize in seed and Round A raises in deep-tech companies, in which technology plays a central role and particularly in companies making a positive impact on the world. Pitango's Fund 7 invested in young companies that are already making a difference in their fields and Fund 8 carries that trajectory further. We are thankful for the trust placed in us by Pitango investors and the continuous faith in the Israeli industry as a whole. We invite entrepreneurs with interesting ideas to come in for a visit to our offices in Tel Aviv, Herzliya or via Zoom."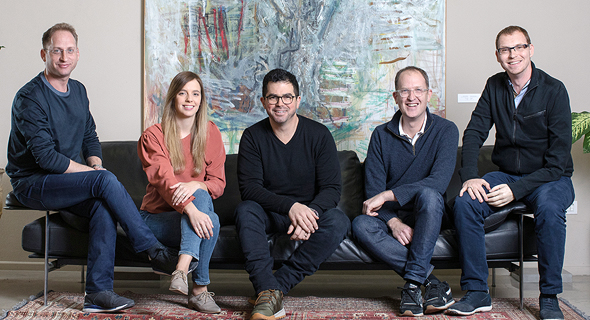 Gad Huldai (left) Sapir Ben-Harosh, Eyal Niv, Yair Cassuto, and Ayal Itzkovitz. Photo: Roi Bar

Pitango's early-stage investments are varied and include artificial intelligence, cloud infrastructure Dev-Ops, quantum computing, cybersecurity, and advanced logistics.

Founded in 1993 and based in Herzliya, a town in the Tel Aviv area, Pitango has more than $2.3 billion in assets under management. Pitango's more than 250 portfolio companies include ridesharing company Via Transportation Inc., location-based recommendation app Foursquare Labs Inc., and Nasdaq-listed cybersecurity firm ForeScout Technologies Inc.