Delivery boom helps Gett avoid Covid-19 calamity
Gett managed to meet its goals despite the pandemic mainly due to the fact that it serves businesses and corporations
Despite a drop of at least 75% in private transportation and around a 50% decrease in business transportation, Israeli taxi-hailing company Gett Inc., has only seen its value fall by around 5% in the first quarter of 2020 due to a sharp increase in its delivery business.

A report by private equity firm Vostock New Ventures, which is one of the investors in Gett, filed with the Swedish securities authority showed the sharp decline in Gett's main vectors. However, Vostock noted that its holdings in the company had only fallen from $74.85 million at the end of 2019 to $71.27 million following the first quarter of 2020. According to that calculation, Gett's overall value has dropped from around $1.5 billion to $1.4 billion in the first quarter of the year.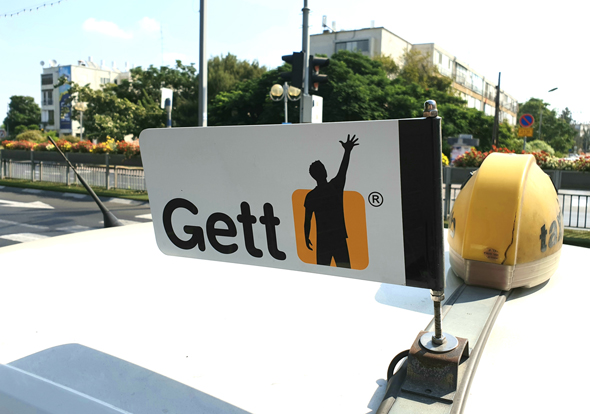 A Gett Taxi. Photo: Shutterstock
Vostok noted in its report that Gett managed to meet its goals despite the pandemic and the lack of private transportation, explaining that the Israeli company maintained its income level mainly due to the fact that it serves businesses and corporations.
Vostok also reported that Gett was profitable as of December 2019 and that it should remain so despite Covid-19.
Gett's strategy to work mainly with companies and corporations seems to have saved it from a far more painful drop this year. Unlike Uber and Lyft, Gett doesn't have super deep pockets behind it and the decision to stick to its business clients and expand its services mainly via a new agreement with Lyft in the U.S., was one of the reasons Vostok didn't decrease Gett's value more significantly.
According to a report on Sky News on Monday, Gett is close to finalising a $60 million funding round. The new funding will be structured as a loan note that would convert into shares when Gett goes public. This would be Gett's first external funding since it raised $200 million last year.
Gett reduced salaries in the company by 15% and 20% for employees and management, respectively, due to the pandemic and also moved to a shortened four-day week. Several employees were also placed on unpaid leave while a very small number were fired.
Gett was founded in 2010 by CEO Dave Waiser and Roi More. The company employs 1,200 people, including 400 in Israel. Gett has raised $790 million in equity to date.