HP's demand to fire hundreds of employees led to departure of Indigo's GM
Alon Bar-Shany believed Hewlett-Packard's plan for widescale cutbacks was unjust
HP Indigo's general manager Alon Bar-Shany shocked management and employees on Tuesday when he announced that he would be leaving the company after 25 years. Bar-Shany will be replaced by Haim Levit, who has held senior positions at the company for the last 15 years.

HP, which purchased Indigo in 2001 and made it one of the corporation's divisions, is seeking to fire hundreds of employees in Israel, according to one person familiar with the matter who spoke to Calcalist on condition of anonymity. Bar-Shany was opposed to the widescale layoffs and his resignation is expected to remove the main barrier that was preventing the parent company from getting its wish. Following the latest developments, there is growing concern among Indigo's employees working out of its offices and factories in Rehovot in central Israel and Kiryat Gat in its south regarding the expected layoffs.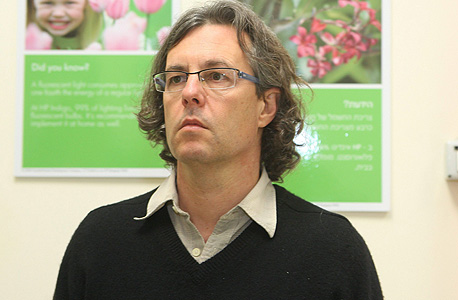 Alon Bar-Shany, the outgoing general manager of HP Indigo. Photo: Orel Cohen
With Levit's background being in management rather than research and development, it is believed that HP will begin rolling out its cutback plan in Israel in the coming weeks.
Over the past couple of years, Bar-Shany deflected two separate attempts by HP to downsize Indigo's workforce. The pressure grew this past October with the appointment of Enrique Lores as president and CEO of HP. Lores announced a reorganization plan that will begin in 2020 and end in 2022 and which will include cutting the company's workforce by 7,000-9,000 employees, or up to 16% of the 55,000 people working for HP around the world. Indigo employs some 2,800 people in Israel and another 1,000 worldwide. HP estimated that the reorganization plan would cost it around $1 billion, but said the move would already save the company the same amount in expenses by 2022.
The reason for the restructuring is believed to be the stagnation in the company's sales, which are currently in the region of $59 billion a year. HP said that it would make changes to its printer division in order to provide more services and that it would increase the price of its printers that can work with off-brand ink cartridges in order to increase its profits from the sale of hardware. Even though thousands of workers have already been fired by the company across the world, Indigo and Israel have been spared to date.
Over the past decade, HP was divided into several subsidiaries and Indigo became a division of HP Inc which focused on the personal computers and printers parkets.
Indigo's development and production is done at its factory in Kiryat Gat, with the company's headquarters located in Rehovot.
HP and Lores were in a dispute with Bar-Shany regarding the extent of the layoffs required in Israel. HP demanded that hundreds of workers would be let go while Bar-Shany only agreed to several dozen. Indigo's income is estimated to be in the region $1.7 billion and the company is believed to be profitable. As such, Bar-Shany felt that widescale cutbacks are unjust.
HP has been trying over recent years to seize direct control of Indigo, including by changing its status from an independent company to part of the global division, but that was prevented by Bar-Shany. Several people familiar with the dispute told Calcalist under condition of anonymity that Bar-Shany then began to stop sharing some of Indigo's financial figures with HP. Eventually, HP got its wish and moved ahead with the restructuring, leading to Bar-Shany's departure.
HP did not announce Bar-Shany's departure and the news was only revealed by Calcalist following a management meeting. It is unclear whether he indeed left on his own volition or was essentially fired.