Green concrete startup ECOncrete raises $5 million
Tel Aviv-based ECOncrete manufactures concrete structures that accelerate the growth of marine plants and animals, including fish, coral reefs, seaweed, and sea anemone
Eco-friendly marine infrastructure startup ECOncrete Tech Ltd. has raised a $5 million series A funding round, the company announced Thursday. The funding round was led by Bridges Israel with participation from technology investment house Goldacre.

Founded in 2012 by marine ecologists Shimrit Perkol-Finkel and Ido Sella, Tel Aviv-based ECOncrete manufactures concrete structures that accelerate the growth of marine plants and animals, including fish, coral reefs, seaweed, and sea anemone. ECOncrete develops a bio-enhancing material, which it adds to its concrete mix to reduce its carbon footprint and encourage fauna and flora growth. The structures are designed with crevices and textures that mimic natural surfaces such as rocks to encourage living organisms to develop on their surface.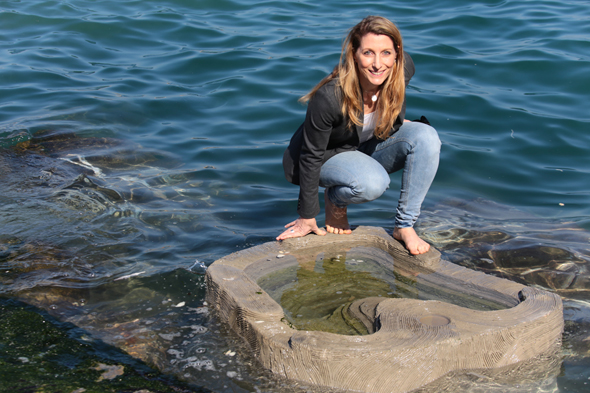 Shimrit Perkol-Finkel. Photo: ECOncrete

"Covid19 is a wakeup call. We can't keep protecting ourselves while destroying precious marine resources. It's time to make a change and set new environmental standards for coastal and marine construction. We don't want to stop the progress, but we want to progress in a way that allows marine life to thrive, using nature-based solutions and ecological engineering. To achieve this, we must deploy innovation from the emerging Blue tech and Climate tech arena. This calls for intensive capital investment. Bridges Israel is a natural partner for ECOncrete, as an impact investment fund, to help increase our positive impact on oceans, coastlines, and coastal communities," Perkol-Finkel said in a statement.