Israeli ag-tech startup Consumer Physics unveils in-field corn moisture analysis technology
Consumer Physics' user-friendly device replaces lengthy, expensive, and complicated processes that currently require the collection of several corn cobs from the field, which are then sent to plants or labs
Ag-tech startup Consumer Physics has unveiled a corn moisture analysis technology that provides results in seconds, in the field directly on the cob, without shelling to enable farmers, agronomists, and seed producers to test larger areas, project the corn's optimal harvest time, save costs, and ultimately ensure high-quality seed for the customer.

Consumer Physics' user-friendly device replaces lengthy, expensive, and complicated processes that currently require the collection of several corn cobs from the field, which are then sent to plants or labs.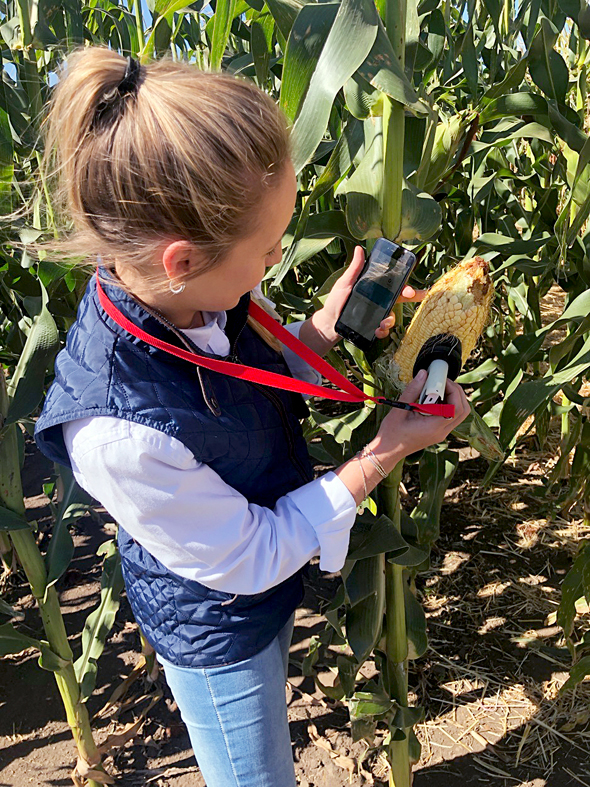 Consumer Physics' corn moisture device. Photo: Consumer Physics

In the labs, kernels must then be shelled and ground, with results taking up to several hours. With SCiO, users can conduct many measurements, daily, from numerous locations in the field, to ascertain the precise moisture level in each plot and determine the optimal harvest time. Users can also track and monitor the data collected in the cloud across time to produce long-range insights into crop efficiency and areas where they should make improvements.

"Precise moisture measurement in real-time has a direct impact on the corn business' bottom line. SCiO was seen to improve forecasting by about 2%-3%, which is likely to save tens of thousands of dollars on an average 1000-acre field," Terry Allen, Consumer Physics' North America Head of Business Development said in a statement.