Jewish divorce court rules that opening a Tinder account does not constitute infidelity
A divorce proceeding got messy after a man claims his wife cheated on him using the popular social dating app
A recent ruling by the rabbinical court, the Jewish court system that deals with marriage and divorce cases, found that the existence of a Tinder account is insufficient cause to prevent a divorced woman from receiving compensation due to her by virtue of her marriage agreement.

In the case brought before the rabbis, a wife had filed for divorce two years ago and demanded to receive her compensation, which is traditionally settled on prior to the wedding and committed to a document presented at the wedding, known as a Ketubah. She claimed she left home after discovering that her husband was having an affair with another woman. She said that while her husband denied the affair, he continued to cheat on her and demanded the full compensation that her marriage agreement stipulated - NIS 180,000 (approximately $50,000).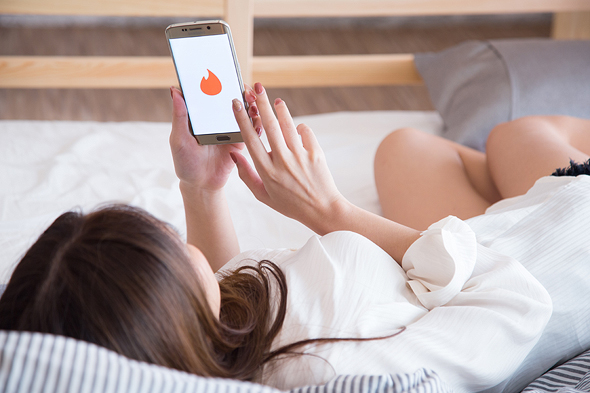 A woman browsing Tinder. Photo: Shutterstock

Her husband had denied the affair at court, acknowledging that he knew the woman but that they were only friends. Moreover, he accused the wife of infidelity, presenting as evidence testimony by a friend who said he saw the woman on popular dating app Tinder.

When questioned by the husband's attorney, the friend said he had swiped left, rejecting the algorithmic match, so he never encountered the profile again.

Responding to her ex-husband's argument, the wife denied opening an account on the social media application that lets you select potential mates depending on preferences, suggesting that perhaps her ex-husband had been the one to open the account in her name. The wife said she had not dated any other men and immediately closed any messages from unknown men on Facebook.

After hearing the arguments of both sides, the tribunal of Jewish scholars ruled that since a woman is entitled to her compensation unless it has been proven that she was in the wrong, and that the man was a "Herder of prostitutes" according to Jewish law and was in a relationship with another woman, the wife was to be given her NIS 180,000. The rabbis further noted that even if there had been proof that the woman had opened an account on Tinder, absent any social activity on the app, it was not in itself sufficient evidence of an extramarital affair.