Interview
Coronavirus-led protectionism poses a challenge to both our economies, says Irish ambassador to Israel
Kyle O'Sullivan says Israel and Ireland share many similar characteristics and can help each other overcome global and regional challenges
It remains to be seen what life will look like post-coronavirus (Covid-19). It is, however, already quite obvious that the wide-ranging ramifications will change many economies forever while others will be grappling with this crisis for years to come.

Many beliefs and ideologies are also being rocked by the pandemic, challenging decades of thinking in numerous sectors. The exact fallout is still somewhat vague, but from a financial standpoint, there are already some clear patterns forming. One of them is that the already intricate world of global trade is set to become only more complex, lending even greater significance to cooperation between countries with similar interests and complimenting economies who in the past may have been spoiled for choice.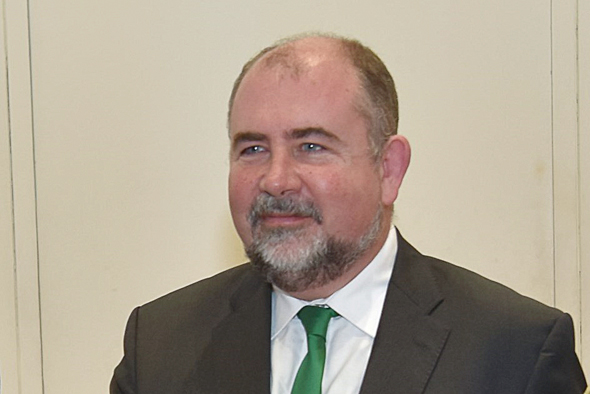 Irish Ambassador to Israel Kyle O'Sullivan. Photo: MFA official photographer

Israel and the Republic of Ireland find themselves in the same boat in that sense, and the situation is not lost on Ireland's most senior diplomat in the Holy Land.

"I think one of the biggest risks of Covid-19 is that it has shaken people's faith in globalization and global supply chains and in openness, whether it is for people or whether it is for goods or services," Irish Ambassador to Israel, Kyle O'Sullivan, told CTech last week. "A lot of countries are starting to look inwards. There was already a trend towards protectionism and there is a risk at the moment that people will feel that Covid-19 leads them in that direction. That is not in Israel's interest or in Ireland's interest and we don't think it is in the global interest. I think that what both countries have to do is show that Covid-19 is a challenge we have to beat but that doesn't mean that we should lock our borders and turn inwards and become protectionists."

O'Sullivan, who recently completed his first year in Israel, spoke of the similarities between Israel and Ireland and the opportunities they present. "Ireland's economy has quite a bit in common with Israel's economy. We are in a lot of the same businesses. I think the two most well-known companies in Israel that have put a significant footprint in Ireland are Wix on the cyber side and Teva on the pharmaceutical side. As well as the hi-tech side, we have a lot of life science and medical science companies, as Israel has too," said O'Sullivan. "We are both highly dependent on external trade and external investment. We are globalized and we both have particular niches we work very well in and we both have very business-friendly environments. Up to now, we both have also found a niche that is predominantly trading in and out of Europe, but at the same time also keeping strong links with the U.S. Obviously we are keen to learn what we can from Israel and vice versa I would expect."

O'Sullivan participated last week in the ninth installment of multinational law firm DLA Piper's roundtable series in collaboration with PwC Israel - 'Doing Business Globally'. This installment focused on legal and tax issues to consider when investing in Ireland and growing Ireland-Israel business ties and investment opportunities.

"Ireland is certainly a very exciting country for us in terms of how it has grown so significantly on the technology scene," Jeremy Lustman, Head of Israel Group, DLA Piper, said at the online event. "Ireland's presence in the EU with everything going on in the EU vis-a-vis Brexit makes it a very attractive point of entry or expansion in the EU. We are very excited about the opportunities for collaboration and to increase the activities that we are seeing between the Israeli and Irish markets."

O'Sullivan elaborated on Brexit and the significance of Ireland remaining the only English speaking country in the European Union. "Brexit is something we regret. We think it is bad for Britain, bad for Ireland and bad for the European Union. However, it is a sovereign choice and people have made it and we have to deal with it in Ireland. It is our nearest neighbor and largest trading partner so we've had to take steps to ensure our own interests are protected, which we have done," O'Sullivan said. "Like any major change or disruption, there are winners and losers and there are advantages. As a result of Brexit, Ireland will remain the only English speaking country in the European Union and Eurozone and it does give us a competitive advantage in terms of overseas firms looking for headquarters and base operations given that we maintain full access to the European Union market."

After peaking around mid-April, Ireland has managed to flatten its coronavirus infection curve. But with over 1,700 related deaths, it is ranked ninth in the world with deaths per one million people. The economic price has also been steep, but O'Sullivan is confident the country is well placed to get back on track.

"We've had a major economic shutdown as a result of the major Covid-19 shutdown. Our GDP will go down, we think around 8% for 2020. Our unemployment, which was previously at 4%, which for us is essentially full employment, has jumped up and is likely to be 22% at peak and 14% for the year. And we've accumulated a deficit of 23 billion euro for 2020. These are major figures and present major challenges, but these were decisions we took knowingly," said O'Sullivan. "We shut our economy and our society down quickly. We closed schools very quickly and they will be closed until September. We've put people at home for the most part. We didn't restrict the borders, but within the country we shut the place down. We provided very good support to people who were unemployed or furloughed. We had one advantage that we had several years of extremely good growth beforehand. Export went up 8.5% last year, fiscal returns were very high so we went into this with a buffer. I think that buffer will allow us to come out of it in the second or third quarter of the year without structural damage done to our economy. Obviously, we rely a lot on the European Union collective action on this one and there is an ECB (European Central Bank) commitment to 900 billion euros of asset purchases. There is major EU investment and our own government will obviously be stepping up domestic investment. We lost around 1,700 people from Covid-19 related deaths which is a fantastic amount of people for a country of only five million. But I think the people and the economy are okay and will get over it."

O'Sullivan noted that Ireland can learn from Israel's startup and risk-taking culture, as well as the financing of small businesses and startups. He added that other countries, including Israel, tend to look at Ireland for examples on the regulatory side. For example, the way the country regulates data protection and IT and its transparent and stable tax system.

O'Sullivan is concerned of the risk to globalization and the international approach posed by coronavirus, but is hopeful, for both Ireland and Israel, that it can be recovered. In the meantime, he's calling for greater cooperation between the countries and is convinced Israeli companies have every reason to expand in and via Ireland.

"For Israeli companies looking at Ireland they need to consider that Ireland is an entry point to the European Union single market, is a very business-friendly environment and has very open and good arrangements for regulation, tax and set up," said O'Sullivan. "I think people will find that the position of Ireland in terms of its culture and its economic system will be very familiar to Israelis. It has a lot in common with the U.S. and a lot in common with Israel. We are the kind of country where you can do things relatively quickly. I think that in those areas where we have an established ecosystem, around hi-tech, around medtech, around pharma, and around aviation, Israelis will find a ready-made ecosystem that is beneficial for them."