Israeli company Kamada to offer antibody treatment to Covid-19 patients
"To the best of our knowledge, Kamada is the first company globally to complete manufacturing of a plasma-derived IgG product for the treatment of Covid-19," says CEO of the Nasdaq listed company
Nasdaq and Tel Aviv-listed Israeli biopharmaceutical company Kamada Ltd. (KMDA) announced Wednesday that it has completed manufacturing the first batch of its plasma-derived Immunoglobulin G (IgG) product for coronavirus (Covid-19) patients, with initial vials of the antibody made available for compassionate use in Israel.

Based in Israeli central town Rehovot, Kamada uses its proprietary platform technology and expertise for the extraction and purification of proteins from human plasma to produce Alpha-1 Antitrypsin (AAT) antibodies.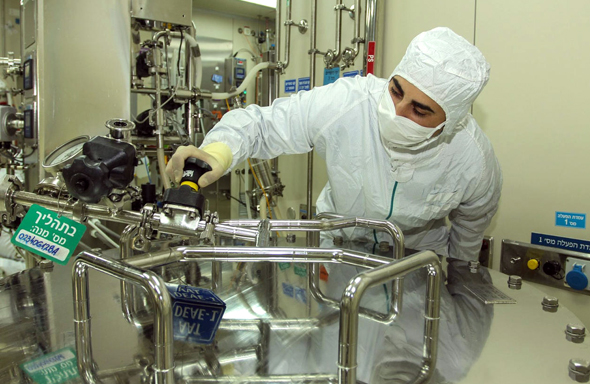 A worker at a Kamada lab. Photo: Kamada

The development of plasma-based antibodies derived from cured patients is a treatment that is usually reserved for late-stage patients. It is not a vaccine, but rather an expensive, single-use treatment that may help coronavirus patients.

Kamada also announced that it intends to initiate a phase I and phase II clinical studies on hospitalized Covid-19 patients in Israel during the third quarter of 2020, subject to the approval of the country's Ministry of Health.

Kamada has been developing antibodies, including for the treatment of rabies and other diseases, using similar processes, for years.

The company stated that in order to expand its clinical development program to the U.S., Kamada, with the support of Italian plasma-derived therapy developer Kedrion Biopharma SpA, intends to conduct a pre-investigational new drug meeting with the U.S. Food and Drug Administration (FDA) early in the third quarter of 2020.

Kedrion is currently collecting Covid-19 convalescent plasma from recovered patients in the U.S. to be used by Kamada to manufacture additional batches of the product.

"We are extremely pleased with the rapid and important progress achieved to date in advancing our plasma-derived IgG product for Covid-19," Kamada CEO Amir London said in a statement. "To the best of our knowledge, Kamada is the first company globally to complete manufacturing of a plasma-derived IgG product for the treatment of Covid-19," he added.