Navigation is coming to scooters
Shared electric-scooter company Bird will offer users in Tel Aviv and Paris the option to navigate with a new app based on technology by Israeli company Trailze
Has shared electric-scooter company Bird Rides Inc. found the way to make them safer? Starting from July, users of Bird scooters in Tel Aviv and Paris will be able to navigate with the new Bird Maps app, based on technology by Israeli company Trailze Ltd.

The app will provide users with the best possible route for their scooter, prioritizing riding on bike paths and roads that have been designated as relatively safe, and in the process, help keep them off sidewalks.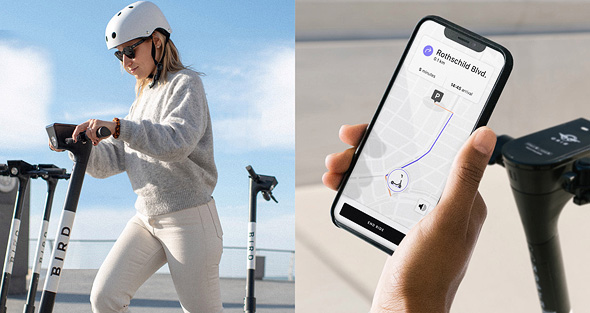 Shared electric-scooter company Bird will soon offer a navigation app in Tel Aviv. Photo: Bird
The app will also navigate users to the closest scooter parking station, with Bird promising that the platform will be updated regularly to include newly opened bike paths.
The app is meant to provide Bird with an advantage in its competition against main rivals Lime and Wind. The shared electric scooter business is getting back on track following the Covid-19 lockdown and is seeing increased demand from users that remain wary of using public transport during the coronavirus pandemic.
"With the exit from the coronavirus crisis and the return to normal, we are seeing a welcome increase in the opening of new bike paths, as well as a massive increase in the number of people returning to ride shared electric scooters in all hours of the day," said Bird Israel CEO, Yaniv Rivlin.
Trailze was founded in 2014 by Ronen Bitan, a 15-year veteran of the navigation business, including in companies Destinator, Ituran GPS and NDRIVE. "We want to make scooter riding the easy and safest option for Bird users in Israel and the world," said Bitan.