Technion students conduct test flight of 3D printed aircraft
The first test flight that was conducted on May 15 demonstrated that the unmanned glider is capable of flying straight and horizontal at sea level, including maneuvers
Students from Israeli research university Technion Israel Institute of Technology's faculty of aerospace engineering conducted a successful maiden test flight of the A3TB (Active Aeroelastic Aircraft Testbed), an aircraft printed entirely on a 3D printer, the Technion announced Thursday. The first test flight that was conducted on May 15 demonstrated that the aircraft is capable of flying straight and horizontal at sea level, including maneuvers.

The A3TB weighs 10 kilograms, and its wingspan is 3 meters long. It was designed by two groups of students under the guidance of Dr. Lucy Edery-Azulay and Professor Daniella Raveh, in collaboration with the Directorate of Defense Research and Development (DDR&D) at Israel's Ministry of Defense.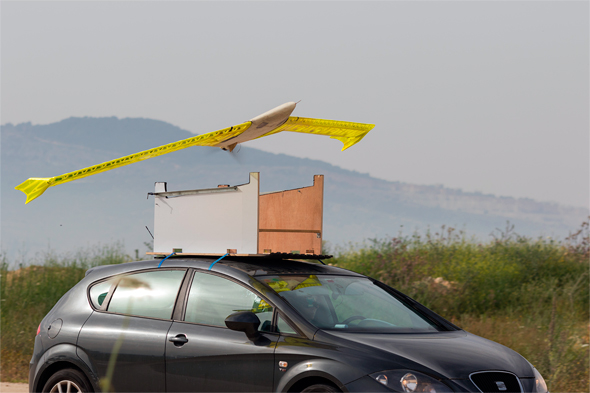 The A3TB. Photo: Amit Gabay

For the past two years, two groups of students at the faculty of aerospace engineering have been developing an aeroelastic tester of this sort; a light aircraft whose wings are long and flexible, and whose performance can be evaluated during flight so that special control mechanisms can be designed to improve its performance, response to wind gusts, and stability.

"The concept we developed, and the possibility of printing the entire aircraft on a 3D printer, offer considerable freedom in designing the airplane and an enormous cost advantage compared to airplanes made of composite materials or metals. Since it is a test airplane that is expected to crash at some point, these features make it possible to make many improvements without large investments. The group is currently working on an automatic control mechanism that will be installed on the second generation of the aircraft, A3TB-G2, in the next few months, and we hope to report on additional interesting results in the near future," Raveh said in a statement.