LinkedIn becomes a battlefield, as job searches shift to the web
Employees, freelancers, and job seekers alike now realize that in the world we live in today the only way to stand out, or even just be noticed, is by making their digital presence count
What is currently going on in the various online social and professional networks can only be described as madness. The magnitude of activity and content currently being posted on Facebook and LinkedIn is difficult for the average human to get their head around. In Israel, the combination between more that 1 million newly unemployed individuals and the rapid adoption of online communication means caused by the shift to remote work, has taken online activity volume to new heights.
According to LinkedIn, in March, the professional social media site has seen a 60% increase in content creation compared to the same month last year. The number of conversations between connected users has grown by 55% for the same period, compared with the year before. The number of chats climbed by 14% in the first week of April compared to the same period last year.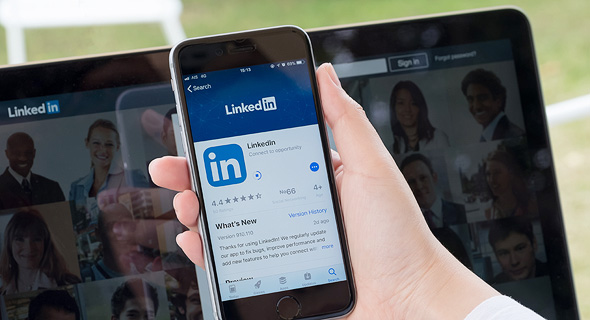 Linkedin. Photo: Shutterstock

Employees, freelancers, and job seekers alike now realize that in the world we live in today, the only way to stand out, or even just be noticed, is by making their digital presence count. Personal branding as a means to promote one's career was talked about long before the coronavirus (Covid-19) crisis. But it seems as though now, mostly out of necessity, more people have decided to act and make their online presence more prominent. But, with so much information, posts, online events, and new profiles, it is worth considering whether the old personal branding tips still apply when the competition is so fierce and sometimes even cruel.

There are hundreds of thousands of people currently looking for a job, so odds are there is more than one person out there with the same credentials as you, Efrat Fenigson, vice president of marketing at coworking real estate company Mindspace Ltd. said in an interview with Calcalist. "That's why you have to try and be unique and stand out," Fenigson, who is also a co-founder of G-CMO Forum, a network of Israeli chief marketing officers, said.

"Suddenly, there are new people entering the game who understand that in order to increase their chances of finding a job they need to create content. And yet, most people still don't do that. They send resumes, use contacts, and directly approach employers, even nudging them several times and in different ways," Fenigson said. "Those who create content do so as a tactic so that they will be noticed, but that doesn't necessarily make it the right tactic. Creating content without a plan can sometimes even deter employers who can afford to be very picky now," she explained.

Presence on various social networks has become critical, but, just being there is not enough and the way you operate on these platforms needs to be creative and sophisticated in order to differentiate you from millions of other active users.

"Personal branding is no longer something which is nice to have, but rather a must," branding expert Gali Hacarmeli told Calcalist. Hacarmeli said she discovered through her work with managers that some of them do an amazing job, but prefer to remain behind the scenes and let their results do the talking. She said this school of thought is no longer relevant. "Now that there are 1 million people who were either fired or put on unpaid leave and understood that they have no job security, the necessity to be seen and to create an identity in the jobs market has become doubly important," she explained.

Once you've mapped out your audience and decided what channels you want to use, the easiest thing to do is publish a post and photo, but that just isn't enough anymore, Hacarmeli explained. To take it up a notch, she said, you can, for example, create partnerships and publish a joint paper with some colleagues.

According to Hacarmeli, employers are looking for leaders so it is important not just to publish a post saying how wonderful you are but to also make sure you are providing some value to the people you want to impact. Another way to strengthen your personal brand is by establishing an online community or, at the very least, be an active member in communities that are related to your field of expertise.

When it comes to personal branding, the goal for employees or job seekers is to stand out to potential employers. "A person that fails to brand themselves will find their resume ended up in a pile with 600 others," Hacarmeli said. "The status which every job candidate wants to reach is to have their name come up when a group of people is sitting together to discuss candidates. That is the only insurance policy in today's jobs market."

If for full-time employees the thought of marketing and branding does not come naturally, for freelancers selling their services or themselves, as experts, is part of the game. In today's unprecedentedly competitive market, both employees and freelancers must be active to stay in the game. "Personal branding is something that we always tell ourselves we will do but never get around to doing," Oz Alon, founder and CEO of online event planning startup HoneyBook Inc., told Calcalist. "But, in today's market, it is more important than ever in order to sell yourself digitally. The need to stand out as someone who can provide added value in your field is conveyed by your online presence," Alon explained.

Fenigson outlined six principles to online personal branding."The first is to get other people to talk about you as there is nothing like having a third-party bring up your name, hail your professionalism, or thank you for amazing work. That is far more powerful than any post you could write yourself," she said.

The second principle, according to Fenigson, is to make sure people will say the right things about you. In addition, she stated, it is important that your name will come up when the relevant terms to your field of expertise are searched in Google. The fourth principle is that your presence is felt in groups or communities in your field of expertise and the fifth is that your work is noticed. Finally, she said, it is important that you present yourself coherently on your digital assets, like your blog, Instagram page, or social media profiles.

"I see that a lot of people who offer to connect or join a group I'm managing have nothing on their profile," Fenigson said. "It is very important to write what you do and connect yourself to companies at which you worked. Your digital assets should also include relevant content. Personal branding is a lot more than a simple post on Facebook."

Not everyone, however, agrees that a polished LinkedIn page is all that important. "We are currently recruiting dozens of employees for our lab and, to me, as a manager, if you want the best talent you look at the bottom line regarding their professional knowledge and experience," Amit Baruch, head of Citigroup Inc.'s Tel Aviv innovation lab, said. "Our goal is to find the candidates we are interested in as quickly as possible and branding won't necessarily affect your score in knowledge tests or your contribution to the organization. There are many talented and brilliant people who have almost no digital presence and we know how to reach them. A warm recommendation from a friend will always work better," he added.

That said, people without a LinkedIn account are rarely approached by potential employers unless they are in a field requiring very specific expertise that few people have. For most jobs, however, there are many possible candidates and, for them, online activity remains crucial.

"LinkedIn had a stigma in Israel as a social network for people who are looking for jobs so local businesses did not bother to set up a profile and many people refrained from doing so fearing to appear as if they are looking for a new job," Fenigson said. Now, she added, "there is an entire population in Israel that is waking up to this tool that is suitable for searching for a job, but for so much more as well."

Fenigson suggests comparing your LinkedIn activity to driving. The first thing you need to do, she said, is ask yourself what the goal of your journey is, namely who you want to be exposed to and what your target audience is. After that you need a means of transportation to get you where you want to go, which on LinkedIn is your personal profile. "The profile needs to be perfect. Your job description, education, and, most importantly, your personal description are crucial. It is recommended that your profile will be in English and only contain Hebrew as well if you are exclusively turning to the Israeli market," she said.

The third issue that needs addressing in this journey, Fenigson said, is the fuel or content, and you also need roads, which, on LinkedIn, are your connections. "The goal is to connect to people in the industries that you are aiming to reach so that you have with whom to share the content you are creating," she explained. "Finally, driving is like the process of distributing your content. Will you do so via a blog, a business page, or an event page? The most important tip is that even though LinkedIn is, for a lot of people, a channel through which to find a job, it does not replace other aspects of the personal branding process, which should include activity in the physical sphere, such as volunteering and taking on initiative," she concluded.