SciPlay acquires Israeli game developer Come2Play for undisclosed sum
The American digital games publisher welcomes the Israeli team to help them move beyond casino games
Nasdaq-listed SciPlay Corp. confirmed on Monday that it has acquired Come2Play Ltd., an Israeli-based developer of mobile games. The official price of the deal has not been revealed.

With the purchase, the American games company will acquire a collection of popular games, including Solitaire Pets Adventure and Backgammon Live. The move is said to represent a 'genuine confidence' in the team in Tel Aviv from SciPlay, who already own and manage games like Jackpot Party Casino and Quick Hit Slots.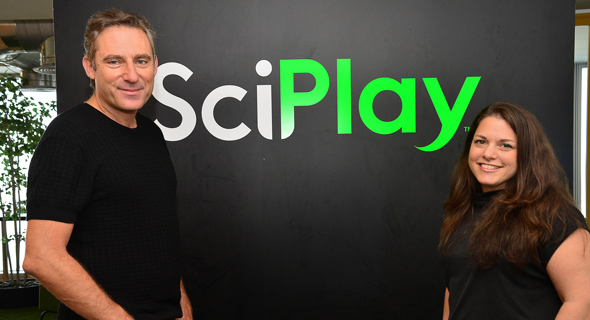 SciPlay's Noga Halperin and Alon Barzilai. Photo: Tamar Murphey

"We feel that there is a real connection between the companies, on both a culture and product level," said Noga Halperin, SciPlay's Global CMO. The move is expected to expand their market beyond social casino apps, while providing Come2Play with a supportive network for growth.

All 40 of Come2Play's Tel Aviv employees will be onboarded to SciPlay immediately.

"Our studio was founded on our passion to make games that really connect with our players," Alon Barzilay, Chief Executive Officer of Come2Play said. The purchase will amplify their reach and allow them to work alongside the US team on future projects.