Interview
Playing blackjack is like building a startup, says Microsoft for Startups GM Jeff Ma
Ma, who has four startups under his belt, joined Microsoft in May to help it stay in the innovation game
When Jeff Ma first had the entrepreneurial itch, he did not wait around for venture capital investors and instead turned to the blackjack tables in Las Vegas. According to him, this wasn't simply gambling but a financial investment that happened to take place at a casino. "Gambling is entering a transaction, knowing you are at a disadvantage," Ma, who was recently appointed general manager of Microsoft for Startups, the software giant's global startup outreach program, said in an interview with Calcalist.

According to Ma, he has a knack for math and blackjack was his ticket to establishing his first two startups. Blackjack served as a side income that allowed him to focus on his day job, he explained.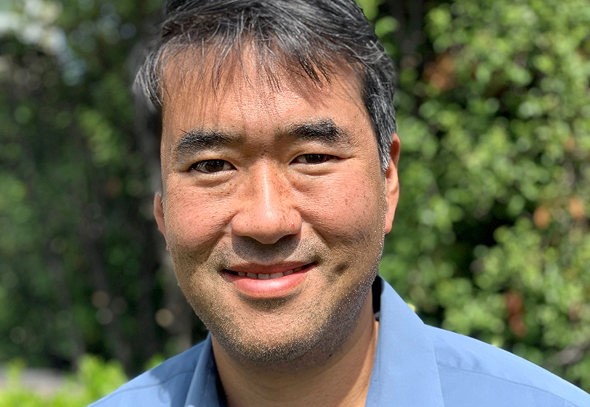 Jeff Ma, general manager of Microsoft for Startups. Photo: PR

Forty-seven-year-old Ma started his new job in the midst of the global coronavirus (Covid-19) outbreak, which means, to this day, over a month later, he still hasn't met anyone from his team face to face, outside of a video call. Before his current position, Ma worked at Twitter, where he said it was very common to work from home. Microsoft's corporate culture is also beginning to shift towards more efficient video meetings, he said, and this change will help it become even more global because it democratizes access to people.

Throughout the 1990s, Ma was a member of the MIT Blackjack Team. The team used card counting techniques to beat casinos at blackjack and became so renowned that it inspired the 2008 Hollywood blockbuster 21, starring Kevin Spacey. Ma even made an on-screen cameo as a dealer.

The math behind blackjack, Ma explained, is freely available for anyone to use, it just takes time and a lot of hard work. But what makes people successful players, he warned, is being able to appear as if they are not counting at all. While counting cards is not illegal in the U.S. and other locations—as it only utilizes the player's mental abilities—casinos always reserve the right to turn down guests as they see fit, he said. You have to sell yourself as a client they want to do business with, he said adding this was a very important thing for success that he takes with him to this day.

With his winnings, Ma founded two startups in the 1990s, giving him extraordinary experience in the up and coming tech industry. During the next decade, he founded two more startups. The first, sports social media company Citizen Sports Inc., was acquired by Yahoo in 2010. When the second company, productivity startup tenXer Inc., was sold to Twitter in 2015, Ma joined the social media giant, where he soon became vice president of analytics and data science. He also served as a predictive analytics expert on live sports broadcasts and was the first person to be hired for this position by ESPN.

When asked what he missed the most about his stint on the blackjack team, Ma said it was the comradery. "We were four, five, or six people trying to beat the system," he said adding it was the reason why he is working with startups today, as they are another group of people trying their best to beat the odds.

The blackjack team was, in many ways, a startup, Ma said, explaining it was a group of people that were trying to produce value and were undeterred by risk. Entrepreneurs, he added, can get cushy jobs at big companies like Google and Facebook and make a lot of money, yet they choose to forgo all of that to follow their dreams and passions. It is never a good idea, financially, to be an entrepreneur, Ma said, "you do it because you have a passion for it, because you want to build something."

Some people only think of an exit as their ultimate goal and sometimes they make it, Ma said, adding that these are not his kind of entrepreneurs. "This may sound funny," Ma said, "since I founded four companies and sold all of them. Some people can see that as a success, but, in many ways, selling a company is not always the best outcome and it's not why you start a company in the first place." People do not realize, he said, that many exits appear to be success stories but, in reality, they are not.

Instead of those with an exit strategy, Ma said he looks out for creative startups that would contribute to Microsoft's ecosystem, specifically to its cloud service Azure. He also places great importance on promoting diversity in tech. If you look at the classic Silicon Valley entrepreneurs, he said, you see a very small and homogenous group of people and innovation cannot grow this way. Diversified teams are the best teams, he added.

Other than diversity, Ma views data as key to success and innovation. Take Covid-19, for example, he said, the data is so lacking that anyone can mold it to present the narrative they believe in. If we all had the same belief system and goals, Ma said, we would likely reach the same conclusions from the available data, but with different motivations come various interpretations of the same information.

It is imperative to build reliable objective tools to collect data and prevent its misuse, Ma said. Human judgment is important, he said, but data is crucial because, as humans, we tend to be bad at making decisions since we are emotionally biased, he said. Sometimes the data can be so conclusive that you would have to be an idiot to not see it, Ma said, but this is not always the case and humans will base their decisions on their own personal opinions.

The best course of action, according to Ma, is for countries to collaborate and share data without hidden agendas, simply for the good of humanity. The data should be stored in an open-code system accessible to all, Ma said, and global collaborations should be formed to resolve the crisis.