Israel-based Authomize announces $6 million seed round
"This is a special time, with special requirements. When the workforce is spread out, organizations take on a lot of cloud services and run a risk of losing control," says CEO
Israeli cloud-based authorization management startup Authomize announced Tuesday it has raised $6 million in a seed round funding round led by Blumberg Capital, M12, and Entrée Capital.

Founded in late 2019 by CEO Dotan Bar-Noy, CTO Gal Diskin and VP R&D Ron Liberman, Authomize currently employs 15 workers in its Tel Aviv office. The company aims to use the funds it raised to grow its team and continue to develop and market its solution.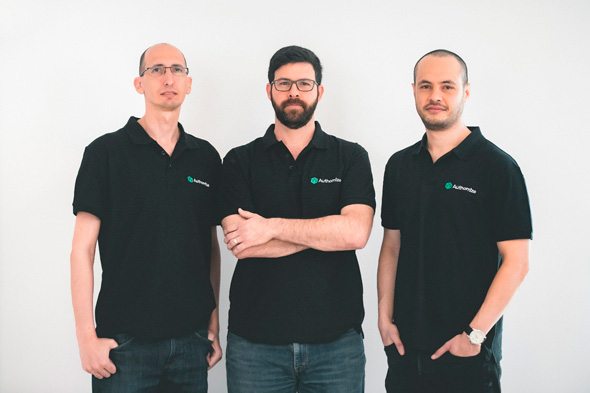 Authomize co-founders Dotan Bar-Noy (left) Gal Diskin and Ron Liberman. Photo: Authomize

"Our goal is not only to make the authorization governance and management world easier by introducing automation but to add significant knowledge to the sphere. Nowadays authorizations are often given according to hunches," Bar-Noy said in an interview with Calcalist. "This is a special time, with special requirements. When the workforce is spread out, organizations take on a lot of cloud services and run a risk of losing control."

Authomize delivers a single view of all scattered applications, across all environments. It also grants deep granular visibility with prescriptive and corrective suggestions to take informed and fully automated actions. Authomize's solution reduces the burden on IT and secures identities by providing them with the exact right level of permissions, while also managing risk and ensuring compliance.

"We founded Authomize after seeing the chaos organizations experience when it comes to managing the authorization lifecycle," said Bar-Noy. "Current Identity Governance and Administration (IGA) tools lack the ability to provide the intelligence and automation needed to make informed and efficient decisions. With Authomize, IT and Security teams can make highly informed decisions or choose to automate processes, removing the need to compromise between IT efficiency and impeccable security hygiene."

"Many companies are in the dark about how to effectively manage authorizations," said Yodfat Harel Buchris, managing director of Blumberg Capital. "It can become impossible to manage and secure authorizations and identities, especially in today's workplace, with record numbers of employees working outside the perimeter. Authomize addresses this pain point with an innovative approach, enabling companies to keep growing without security and operational risks."