Tel Aviv's busiest road is set to become a staging ground for autotech experiments
Ayalon freeway to pilot smart transportation solutions with companies who can't conduct trials abroad
Tel Aviv's central highway, the Ayalon Freeway will be transformed into a testing ground for Israeli autotech firms unable to carry out their pilots in other countries due to Covid-19 restrictions. The highway's operator, Netivei Ayalon Ltd. is set to embark on a series of pilots in the smart vehicle and smart transportation field, in partnership with the Israel Innovation Authority (IIA) the government's R&D investment arm, in the coming months.

The two organizations, together with the Ministry of Transportation, are already planning to carry out trials with small transport drones, starting in July. According to the outline of the new pilot, the participating companies will be those with expertise in autonomous transportation solutions.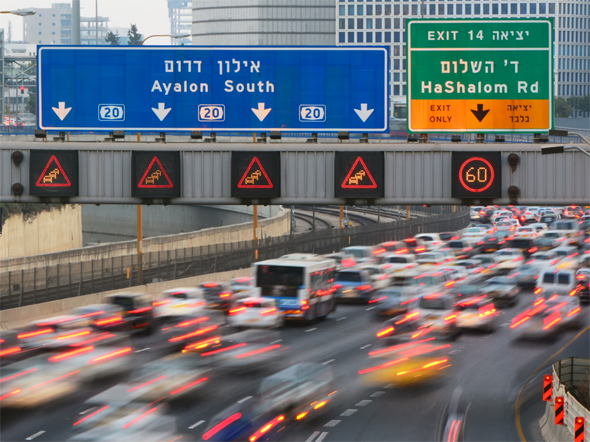 Traffic on the Ayalon Highway. Photo: Shutterstock

Among the solutions that the state agencies are looking to test are smart parking lots, public transportation management in peak hours, and integration between various forms of transportation.

An example of a scenario that will be tested is of a driver who arrives at the city with his or her vehicle, continues aboard a train, and reaches their final destination by electric scooter. Alternatives also include the use of on-demand shared transportation.

Another aspect the project aims to test is the use of smart infrastructure, like electric car charging, vehicle extraction scenarios, and research into technological traffic enforcement methods.

According to Netivei Ayalon, after the two-year pilot period is over, the company will select the products it sees fit to adopt.