Could Trump's visa decree end up being a blessing in disguise?
Israeli executives point out the possible pros and cons of Donald Trump's decision to restrict work visas for foreign employees
U.S. President Donald Trump's dramatic decision to expand restrictions on work visas at least until the end of 2020 became the talk of the day in the Israeli tech industry which woke up to a new reality on Tuesday morning.

Despite the fact that the U.S. government had already toughened immigration laws over recent years and implemented a stricter and more exhausting process to receive a work visa, and despite the freezing of several green card programs back in April, there was a belief that Trump wouldn't resort to such an extreme move.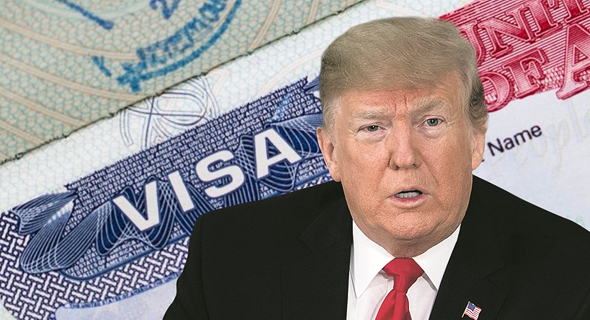 U.S. President Donald Trump. Photo: AFP

At this stage, it remains unclear whether this is indeed a fatal blow as the new restrictions don't apply to employees that are already in the U.S. and is also set to expire in six months. But the true threat is the prospect of these restrictions being extended to 2021 should Trump be reelected and should the pressure from the U.S. tech giants fall on silent ears.

Blocking the option for relocation will result in a major blow for Israeli companies aiming to enter the U.S. market and will hurt their growth. In a more extreme scenario, especially should the coronavirus (Covid-19) pandemic continue, this may even result in a surplus of workers in certain sectors in the Israeli tech market, leading to another drop in salaries, which have fallen in some areas by as much as 40% since the crisis began.

Michael Reitblat, CEO and Co-Founder at Forter, is in the midst of relocating five of his employees. Forter, which specializes in creating a fraud-free payment environment for online transactions, employs 80 people in its U.S. office which opened in 2015, including five Israelis. "These are people in development and integration positions who must be in touch with the clients to understand what they need. You have to relocate to a country in which you aim to grow in order to get to know the market better," said Reitblat.

Trump's executive order restricted the H-1B, L1 and H-2B visas which are the most popular visas among tech employees. It is estimated that tens of thousands of relocated Israelis are currently employed in the U.S., although some of them have already received citizenship after spending more than five years in the country.

Trump claimed that Covid-19 underscored the importance of protecting the U.S. jobs market and increasing employment possibilities for local citizens. But America's tech giants, from the Google CEO to Amazon, slammed his decision.

"Preventing high skilled professionals from entering the country and contributing to America's economic recovery puts America's global competitiveness at risk," an Amazon spokesperson said.

What will Israeli startups do now? There are currently mixed opinions on the matter and not everyone necessarily sees it as a negative development. Ami Orkaby, head of the immigration department at law firm Meitar, Liquornik, Geva, Leshem, Tal, explained that it won't be possible to use other visa routes as the U.S. has very strict regulations. Even the option to receive a specialist visa, which remains open, doesn't fit tech industry needs as it requires proof of financial capabilities.

"This is a setback for startups, but not a fatal blow for Israeli tech, perhaps even the opposite if work can be found for those employees who will now not be relocating," added Orkaby, who believes the U.S. is in greater danger of suffering due to Trump's decision. "The new restrictions also apply to researchers. If the U.S. wants to lead the race for a Covid-19 vaccine why would it restrict the relocation of a talented researcher from the Technion Israel Institute of Technology who might now remain in Israel?"

Reitblat believes the new restrictions could prove to be an opportunity for the Israeli tech market. "It isn't just about the Israelis who will now be staying in the country, but this also presents an opportunity to bring in talented employees from other countries for positions companies have been struggling to fill for years," he noted.

According to the Israel Innovation Authority, the Israeli tech industry is in need of 15,000 additional employees.

Netta Bromberg, partner at law firm Barnea, Jaffe, Lande and head of its employment department, is expecting significant global ramifications as a result of the U.S. move. "This is a long-term blow for the boundless globalization the way we experienced it over recent decades. This is a decision that is disconnected from reality as we knew it. Startups that will want to expand in the U.S. will have to search for local employees," said Bromberg.

Noa Friedman, the CEO of Ogen Relocation, who is based out of California and guides families who are moving to the U.S., said relocations had hit a grinding halt due to Covid-19 even before Trump's latest decision. "Now, even those families that were in the process of relocating but had to stop due to coronavirus may end up deciding to remain in Israel after all."