Covid-19 Cutbacks
Israel's biggest accounting firm EY to sack dozens of employees
EY put around 350 employees on unpaid leave at the start of the Covid-19 crisis and almost 100 of them are set to be fired
Israel's biggest accounting firm and one of the Big Four globally Ernst & Young (EY) is firing dozens of its Israeli employees, a source told Calcalist on condition of anonymity. EY put around 350 employees on unpaid leave at the start of the coronavirus (Covid-19) crisis, the way many other accounting firms in the country did.

According to sources at the company, most of those employees will return to work during July, but many won't, with the number of those sacked believed to be less than 100. According to an agreement reached with the employees, social benefits, including payment for extra time and bonuses will be restored.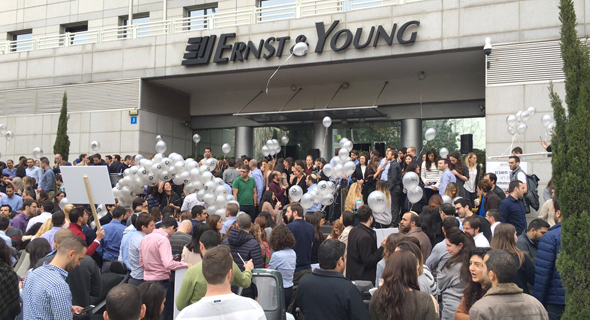 EY Israel offices in Tel Aviv. Photo: Courtesy

According to Dun's 100 rankings which are undertaken by Dun & Bradstreet Israel Group economists, EY Israel employs over 1,800 people, including more than 700 accountants.

The accounting industry has suffered over recent years from decreasing fees for professional services, while advisory activity, which used to be minor, has increased.

EY Israel commented: "At the beginning of July, all of the employees that were put on unpaid leave (around 350) will return to work. However, due to the changes that have occurred during this period, we have made some adjustments to our workforce in which we will be forced to bid farewell to several dozen of the firm's employees belonging to the different departments and sections."