Artlist announces $48 million in new funding to help grow catalog of content for video creators
The Israel-based startup aims to meet the increasing demand for video content as global viewership numbers skyrocket
Israeli startup Artlist Ltd. which offers free licensed music, stock video clips, and sound effects for digital creative industries announced Monday that it has raised $48 million in a financing round led by U.S.-based KKR and participated by previous investor Elephant Partners that led Artlist's funding round in 2018. The company, which was founded in 2016 in Kibbutz Afikim in northern Israel, did not reveal how much it raised in its previous rounds.

Artlist develops and offers content, including video, photos, music, and sound effects to content creators, who pay through monthly subscriptions. The funds raised are aimed to rapidly expand the company's digital stock offerings to meet demand by a growing number of YouTubers and other content creators.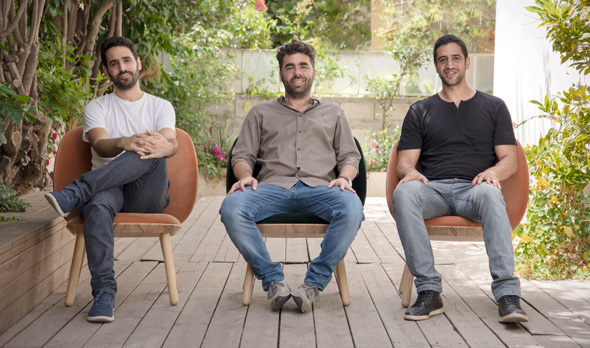 Artlist co-founders Ira Belsky (left) Itzik Elbaz, and Eyal Raz. Photo: Artlist

Artlist builds and maintains a catalog of creative digital assets including stock music and sound effects that creative industry producers can use in videos, games, and music without worrying about copyrights or other legal issues. Artlist also owns the website Artgrid, where content creators can access a large catalog of stock footage.

"We provide access to catalog usage rights for use by video creators. We have two websites that provide video creators with content for their creations in exchange for an annual subscription for a low price," Ira Belsky, Artlist's co-founder and co-CEO told Calcalist in an interview.

Artlist went online as a bootstrap company in 2016 and since then has been able to produce revenue and maintain profitability.

"We are four entrepreneurs who came from the world of video, tech, and music. I came up with the idea for the company when I tried to make a video and saw how lacking I was in quality materials," Belsky said.

Music and footage licensing is often a complicated and expensive process, which slows content creators down and can get in the way of producing creative content. By offering direct and unlimited access to its entire catalog of music, sound effects, and footage for a single annual subscription fee, Artlist lets content creators focus on their creativity and production.

The company's other founders are Itzik Elbaz, who also serves a co-CEO, Eyal Raz and Asaf Eylon. The company currently employs 100 people and is rapidly growing.

"We established the company at Kibbutz Afikim (a rural village in northern Israel) where we employ 50 people and we have two other offices in Tel Aviv and Raanana. We chose partners that we feel get the company's vision. As a bootstrapped company that produces revenues, we receive many offers, our emphasis has always been on those who can contribute to growth acceleration," Belsky said. "We will use the funds to build up our solution as a one-stop-shop for our users. We are also examining the option of acquiring other companies that can complete our solution.

"During the coronavirus (Covid-19) crisis we worked more than usual. Our video catalog site offered a substitute for people who couldn't leave home in order to film but needed the footage. We experienced a 100% growth in that sector and are glad we could help other people grow too," Belsky said. "We have a million people using both of our sites. We have licenses for 20 million products with the expectation of reaching 30 million by the end of the year."

"When we got to the market, there were two available options: an expensive one that offered high-quality products and a cheap one that only had low-quality products. We found a way to sell high-quality materials at an attractive price," explained Belsky. "Most of our activity is with small and medium-sized businesses and with individuals. Our content, which includes music, sound, and images is produced by us in cooperation with creators from all over the world who receive royalties according to the use of their works. We invest millions of dollars a year in creating the content."

With the new investment, Artlist is poised to serve the growing number of digital content creators churning out an increasing amount of content. It is estimated that the average person will spend 100 minutes every day watching online videos in 2021, an increase of about 20% compared to daily viewing minutes in 2019.

KKR's investment in Artlist comes primarily from its Next Generation Technology Growth Fund II. "We are excited to welcome KKR as a new investor and look forward to working alongside their team who bring decades of experience building leading global companies. KKR's tech and media expertise, networks, and relevant prior investments such as Fotolia and BMG Rights Management provide added value," said Elbaz.

Over the past year, YouTubers have become the company's fastest-growing segment, with Artlist and Artgrid now being used by over 1 million content creators, as well as by some of the world's top brands.

"The growth of digital content creation – and the evolving way in which it is consumed – has generated a tremendous amount of opportunities for creators, but the process of licensing digital assets remains a significant challenge for small and large creators alike," said Patrick Devine, a member of KKR's Next Generation Technology Growth investment team. "What impresses us most about Artlist is the management team's dedication to helping creators focus on what they do best and removing friction from the process of discovering and accessing content."

The company also recently added Mike Weissman, President of music service company SoundCloud, as a board director.

Artlist enables sustainable income for thousands of professional contributors who produce original music, original videos, and sound effects downloaded by over 1 million users, and who otherwise would not be able to monetize their work at any meaningful scale. Top contributors to Artlist earn hundreds of thousands of dollars.