7 gadgets that gained popularity in the coronavirus era
We all had a lot of time sitting at home this year. Here are some gadgets people collected to keep busy
Covid-19 resulted in lockdowns across the world with billions of people staying home. While many people adapted to change with gloves and face masks, others decided to invest in new gadgets that would help them stay safe.

Here are seven gadgets that were either invented recently or garnered a little more attention due to their new relevance to Covid-19 life.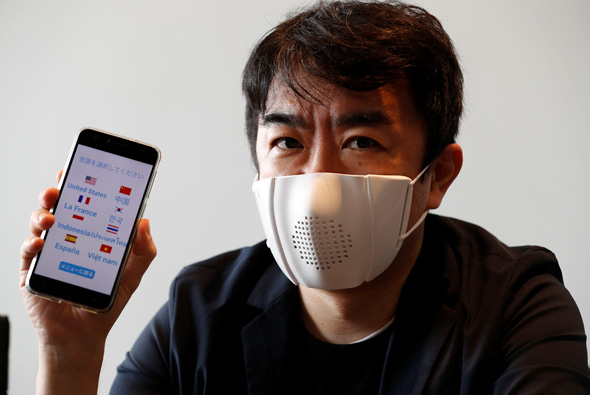 Taisuke Ono and the C-Mask. Photo: Reuters

1

Name: Donut Robotics

Product: 'Smart Masks'

Year Founded: 2016

Founders: Taisuke Ono (CEO)

It was only a matter of time before someone would add the face mask into the Internet of Things. Donut Robotics has developed an internet-connected smart mask capable of transmitting voice commands from Japanese into eight different languages. The device connects to a smartphone via bluetooth and acts as an extension to the telephone, helping transcribe speech, make calls, or clarify speech. The masks will be available from September and are selling for $40 each.

2

Name: Immutouch

Product: Smartband that buzzes when a hand is too close to a face

Year Founded: 2020

Founders: Joseph Toles, Matthew Toles, Justin Ith

Brothers Joseph and Matthew Toles, along with their friend Justin Ith, already had the algorithm that would help them develop a prevention tool for face-touching. The original wristband was designed to reduce skin-picking and nail-biting during stressful events. After Covid-19 broke out, they pivoted their hardware and software to create Immutouch - a band that stops you from touching your face and spreading germs.

3

Name: Scylla

Product: Next-gen AI solutions for thermal temperature and risk detection through vision

Year Founded: 2018

Founders: Albert Stepanyan

Scylla Technologies Inc. uses artificial intelligence to monitor real-time video streams and predict violent or dangerous behavior. Originally created for security or surveillance companies, Scylla is pivoting and helping companies monitor temperature levels and potential Covid-19 cases in public areas. The service can be used in hospitals, airports, corporate offices, or malls.

4

Name: 'hyginehook' by Draft Design Build (DDB)

Product: A small portable hook capable of opening doors

Year Founded: 2002

Founders: Steve Brooks

Sometimes, the simplest devices can produce the best solutions. Steve Brooks, Founder and Co-owner of the British furniture company DDB decided he was done with touching door handles in the age of Covid-19. He started to produce hyginehook, a small hook that can open doors without the need to physically touch them. It can fit in a pocket and is made from non-porous material, making it easy to clean each day.

5

Name: Virustatic

Product: Virustatic Shield

Year Founded: 2020

Founders: John Butcher (Operations Director)

UK-based biotech firm Virustatic recently announced a brand new 'Virustatic Shield' snood, providing antiviral protection against Covid-19. The face mask is covered in the Viruferrin protein compound, which is seen to inhibit the SARS-CoV-2 strain, thus acting as an immediate antibody against Covid-19. According to Virustatic, it has 50 times as many wears as a single-use mask and builds on 10 years of work by UK biochemists and virologists.

6

Name: Kent

Product: Table top vegetable and fruit purifier

Year Founded: 1999

Founders: Mahesh Gupta

KENT has produced a device that sits comfortably in your kitchen, all while making your food safe to eat. The 'Tabletop Vegetable and Fruit Disinfectant' device has a chemical-free ozone technology that disinfects food by removing the pesticides or chemicals found on them during their transit. It can remove any virus or amounts of bacteria that might be transferred through hand touching and makes food safer to eat when at home.

7

Name: LARQ

Product: Self-cleaning water bottle

Year Founded: 2017

Founders: Justin Wang

LARQ, Inc. has been around for a few years but has suddenly seen its moment in the Covid-19 pandemic. The Larq self-cleaning water bottle can neutralize 99.99% of harmful odor-causing bacteria using its UV-C light. In just 60 seconds, users can click a button on the side of the device and it works its magic. It can also self-activate every two hours to make sure your water remains clean and odor-free.