Microsoft, USVP lead $15 million round for Tel Aviv-based cybersecurity startup Hunters
Hunters develops an autonomous system that detects attacks and threats to an organization's cloud service, internal network, and endpoints
Microsoft, through its investment arm M12, and Menlo Park, California-headquartered U.S. Venture Partners (USVP) have led a $15 million series A round for Tel Aviv-based cybersecurity startup Hunters, the latter announced Tuesday. The current round brings the company's total funding to date to $20.4 million.

Additional participants in the round include the investment arm of Nasdaq-listed identity management company Okta Inc., and existing investors YL Ventures and Blumberg Capital.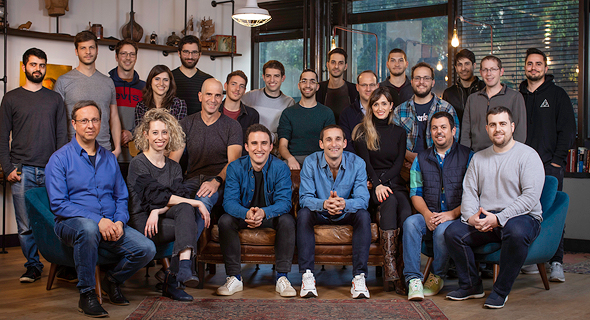 Hunters team. Photo: Eric Sultan
Founded in 2018, Hunters, incorporated as Cyber Hunters Ltd., develops an autonomous system that detects attacks and threats to an organization's cloud service, network, and endpoints.
Hunters' software is capable of detecting attacks that are usually overlooked using automation tools that identify and cross-reference various attack strategies in information technology (IT) environments.
Hunters went through "an interesting period" during the coronavirus (Covid-19) crisis, CEO Uri May told Calcalist in a phone interview. The company was in the midst of negotiations with U.S. companies, which came to a halt due to the outbreak, he said.
"We were lucky to be able to continue the process with M12 and USVP, which is a veteran in the cybersecurity sector," May said. "Microsoft posed a lot of difficult questions before it eventually chose to participate," he added.
According to May, this round will allow Hunters to continue to operate for two years during these uncertain times. The company currently employs 30 people in Israel and has an additional smaller office in the U.S. "We will gradually hire more people in Israel," May said, adding that some of the company's U.S. clients were hurt by the crisis and are now holding off on purchases.
Nobody wants to endure a severe attack during the pandemic but organizations are being extra careful with their expenses, May explained.
To better address current cybersecurity threats, information security managers in big organizations must think like attackers to anticipate their moves and implement the necessary changes, Mony Hassid, managing director of Europe and Israel at M12, said in a statement. Hunters' software automates both processes, he added.
Hunters has the potential to become a market leader thanks to its unique ability to extract meaningful insights by correlating signals from different sources, USVP Partner Jacques Benkoski, said in a statement.
Organizations today are decentralized, making them more exposed to cybersecurity threats than ever, Monty Gray, a senior vice president of corporate development at Okta, said in a statement. Hunters' technology offers customers a flexible solution to addressing their overall security level, he added.
Hunters Investment Microsoft USVP Cybersecurity