Security startup for blockchain assets Curv raises $23 million in round A funding
Investments came from CommerzVentures, Coinbase Ventures, Digital Currency Group, Team8, and Digital Garage Lab Fund
Curv Inc., a developer of cryptographic asset protection infrastructure, announced Wednesday it has raised $23 million in round A funding. Investors in the round included CommerzVentures Coinbase Ventures, Digital Currency Group, Team8, and Digital Garage Lab Fund. In the seed round, the company raised $6.5 million.

Curv was founded in 2018 by entrepreneurs Itay Malinger, who serves as CEO, and Dan Yadlin, who serves as CTO. Both of whom are alumni of the Israeli military intelligence's Talpiot program. Curv has offices in Tel Aviv and New York and employs 32 people, 25 of whom are in Israel.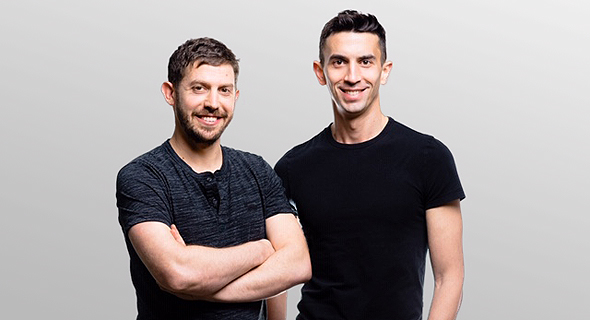 Dan Yadlin (left) and Itay Malinger. Credit: Nathaniel Tobias

The company has developed encryption technology based on multi-party computation (MPC) that secures digital assets and enables the transfer, storage, and management of any digital asset on any blockchain or distributed log (DLT). The company said it now has dozens of institutional customers who transfer billions of dollars each month on the company's security platform.

"Despite a challenging economic climate, we're seeing strong growth among traditional financial institutions, who require our enterprise-grade security infrastructure, robust governance engine, and seamless integration with blockchain technology," said Malinger. "Unlike other legacy solutions, we simultaneously deliver the protection, instant liquidity, and complete control required for all institutions to thrive in the digital asset economy."

"Curv allows banks and financial organizations of various types to easily adopt and manage digital assets in a secure way. We expect digital incoming to be an integral part of any future financial institution, and Curv's rapid growth with clients around the world and across the financial spectrum is proof of that. The cyber challenge in digital assets is complex and many organizations in the field have been affected by it. Curv's solution, based on unique encryption technology, is a leap forward compared to any other solution on the market," said Liren Greenberg, co-founder of Team8, a company-building venture group in enterprise technology, data, AI and cybersecurity.