Israelis are twice as likely to return to offices as Europeans, new study shows
The 'Back to the Office' report was conducted by Israeli flex space provider Mindspace
Israelis seem to feel a little differently towards returning back to the office in the coronavirus era, according to a new survey of more than 1,000 participants. Shared co-working space provider Mindspace Ltd announced the results of a survey conducted in countries including Israel, the UK, Germany, Poland, and the Netherlands.

Its findings show that 57% of Israelis have already returned to work in physical offices, while another 27% of the workforce intends to join them in the next 4-8 weeks.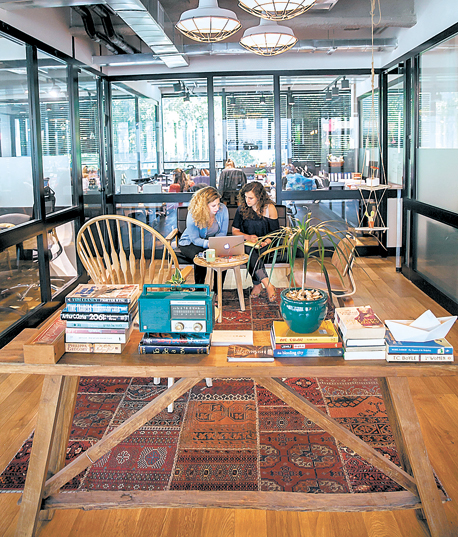 Mindspace: Photo: Oral Cohen

This is a drastic contrast to areas in Europe like Poland, which is reporting that 27% of its workforce is comfortable leaving the house for work. Only 42% of its workforce intends to return to offices in 4-8 weeks.

The USA and UK have the lowest return rates to office life, with just 5% and 6% of employees currently back at their desks. Respondents did not commit to a specific timeframe to return and have said they aim to do so 'later this year'.

The results of the study demonstrate the Israeli 'chutzpah' - or 'bravery' - in returning to work after lockdown restrictions start to lift around the world.

Mindspace offers locations in Tel Aviv, London, Berlin, Amsterdam, and more. The boutique flexible spaces providers can serve small and large companies that seek a sense of community in their work environment. Of course, in the era of Covid-19, many of its spaces have been left empty or shut down altogether.

After the report highlighted concerns such as health and safety or commuter fears, Mindspace intends to implement new standards in its 31 locations according to each country's regulations.

In late May, Israel was ready to claim victory against the Covid-19 pandemic, reporting only a handful of cases a day. However, since restrictions were lifted, there has been a substantial rise in new cases and thoughts of a second wave are starting to concern citizens.

The USA has the highest number of Covid-19 cases in the world.