"This crisis is going to present many opportunities for banks," predicts Citi Israel CEO
Neil Corney says Covid-19 crisis has proven how important it was to invest in Fintech for so many years
The financial world is still coming to grips with the coronavirus (Covid-19) pandemic and it is still too early to assess its full effect, Citi Israel CEO and head of markets Neil Corney told Calcalist's Irit Avisar at 'Conference Call,' part nine in a series of online conferences organized by Calcalist tackling some of today's biggest challenges from the perspective of technology, business, and regulation.

"The difference between Wall Street and Main Street is an interesting phenomenon and I think that we are still not seeing the pandemic's full effect. This is going to take more time," said Corney. "The coronavirus crisis is something the world has never seen before and doesn't know how to deal with. On the one hand, we have the support of Central Banks across the world as well as governments who are providing the markets with some breathing room, but we still don't know what the effects will be."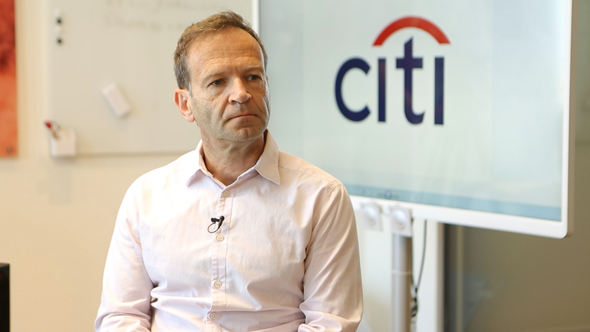 Citi Israel CEO and head of markets Neil Corney. Photo: Orel Cohen and Tal Azulay
How did the crisis affect Citi?
"There was an immediate effect. Because we are a global company we experienced the crisis from day one in China and learned how to deal with it and help our employees, while moving to working remotely. We were very quick to learn and we reached a situation in which 95% of our employees were successful in working from home at the same time. We had one day in which 140,000 people were all working on our systems simultaneously."
The Fintech sector was blossoming before the crisis. How was it affected?
"I think the crisis is an opportunity to see how important it was to invest in Fintech all those years. At Citi we opened an R&D center in Israel seven years ago to serve our company globally and we currently have more than 200 employees that have been working all these years preparing for this situation. This really helped, and many of the applications that we developed throughout the years were used during the crisis. Of course, there are always winners and losers and I'm sure that it is going to be more difficult to raise money now."
What kind of startups can prosper?
"One such example is a startup we worked closely with on recruiting new employees. It wasn't possible to meet and interview people face-to-face so we used an application that enables us to interview people remotely and we recruited several new employees that way."
Banks are investing a lot in Fintech and technological developments. Aren't you afraid that the tech giants will also dominate this sector?
"I can't give an unequivocal answer to this. What I can say is that I believe that there should be some collaboration between banks, tech giants, and startups. I believe that due to the crisis the regulators will not want to waive the banks' experience and knowledge. The banks know that they need the startups and we want to work with the tech giants as well, but I don't believe that the latter want to enter this space. It has so much regulation and it is a sector in which you need to invest a lot of money and experience. But I do believe that there is room for everyone."
What Israeli Fintech startups interest you?
"We are working with several companies in several sectors. Cybersecurity and payments are very interesting, as well as solutions for deal rooms."
What will this world look like five years from today?
"As with many sectors it will be interesting to see if remote work will continue or people will return to work from offices. I think that the world of bank branches which I grew up in will not exist in the future. Like with any crisis, Covid-19 also presents opportunities. There was a huge financial crisis in 2008 and the only way to learn how to be ready for the future is through crisis. This crisis is going to present many opportunities for banks."