Opinion
US-Israel M&A getting stronger and expected to continue
By analyzing M&A Deals using U.S. buyers and Israeli targets, there are some interesting observations
Israel has established itself as the "Startup Nation"; and is widely known as a global center for innovation. Many of the Fortune 500 companies including Apple, Cisco, Facebook, Google, Intel, Microsoft, Merck and others have a significant R&D presence in this Middle-Eastern powerhouse. These companies have set up their local presence usually through an acquisition of an Israeli startup which later grew into a full-scale technology center with thousands of employees. The Israeli ecosystem has been conditioned to build and sell startups to large US acquirers. This dovetails well with the VC model, which counts on exits within five or six years to provide returns to their Limited Partners, with the majority of exits in the mid-market range (under $200M in valuations). In this article we cover the trends of the US-Israel cross-border Tech M&A market. We will discuss the growth in annual Technology acquisitions, the main target industries, buyers and valuations.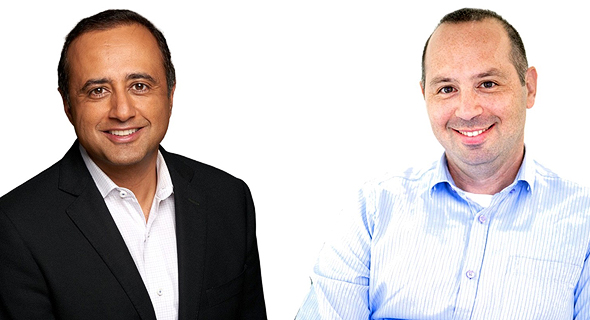 Gaurav Bhasin and Itay Sagie. Credit: Itay Sagie
Utilizing Crunchbase, we analyzed M&A Deals with US buyers and Israeli targets over the past three years, from mid June 2017 to mid June 2020. Focusing on Technology Acquisitions, we "cleaned" the data and removed deals in non-Tech sectors such as Services, Pharma, Manufacturing, Heavy Industries, Oil, Gas, Food & Beverages etc. We also removed buyouts, acquihires and merger deals. The analysis resulted in some interesting observations.
Looking at the data, we see ~30% annual growth in US-Israel acquisition deals, up from 16 deals three years ago to 27 deals in the past year, from mid 2019 to mid 2020. This is not surprising as US technology corporates have realized the significant product value created by technology companies in this region, which have complemented their existing product roadmap, and we expect this trend to continue. Israel being a nation of nine million people builds products for the global market from the get-go due to its small local TAM (Total Addressable Market), which makes their companies appealing to US acquirers who are looking to sell into global markets.
In addition, technology talent is very high in Israel – professionals who have trained at premium engineering schools such as the Technion, Weizmann Institute, Hebrew University, many of whom have worked for the army and advanced intelligence units, which has resulted in highly innovative tech, strong leadership skills and work experience at larger companies. In addition, Israel has a Silicon Valley-like culture where entrepreneurship is encouraged and there is a pool of venture capital available to assist entrepreneurs.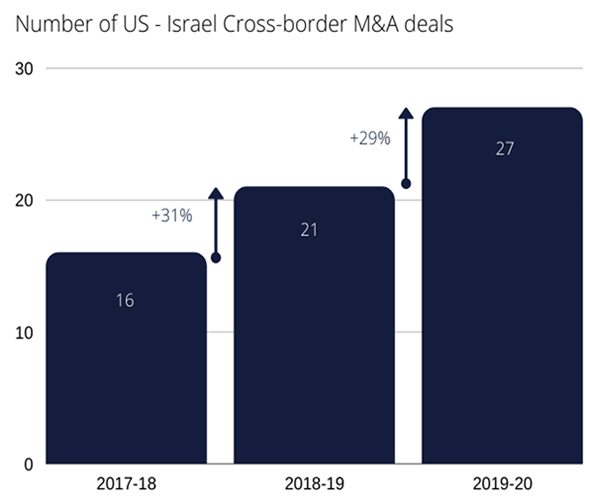 Credit: Allied Advisers analysis based on Crunchbase data
Credit: Crunchbase
Looking at the chart below, AI, Cyber, SaaS, Big Data pop up the most when it comes to US-Israel Cross Border Tech M&A. While some of these categories may be interchangeable, there is a clear trend for Enterprise SaaS-based tech, and AI will continue to play a major role in future M&A trends.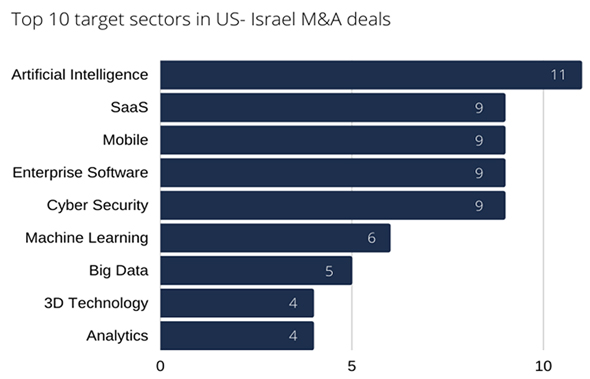 Credit: Allied Advisers analysis based on Crunchbase data
Credit: Crunchbase
While the number of Israeli unicorns (>$1B valuation) is on the rise, with more than 30 unicorns founded by Israeli founders such as: Wix, Monday.com, WalkMe,TripActions and Cybereason to name a few, over 90% of M&A is under $200M valuation including Microsoft's latest acquisition of CyberX which was reportedly under 200M. The Mid-Market M&A, when executed correctly, offers a good opportunity for both the buyers and sellers to generate maximum value. Israeli Deep tech, quality engineering, and valuation drive high exit multiples which provide good returns for VCs investing in Israeli tech, and a potential attractive price for US buyers compared to buying a Silicon Valley company.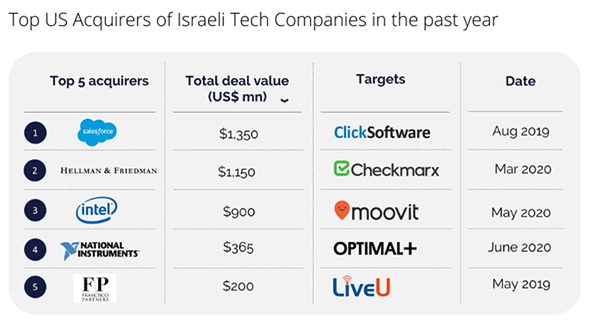 Credit: Allied Advisers analysis based on Crunchbase data
Credit: Crunchbase
COVID-19 has not stopped US Corporates from leveraging the unique Israeli market for M&A. These exits are normally planned out as a well-coordinated effort between the Entrepreneurs, their stakeholders and professional advisors including investment bankers and lawyers. The continued rise in US-Israel cross-border M&A activity is one positive trend in these strange times, we hope to return to "normal" as soon as possible and we expect this trend to grow even further.
Gaurav Bhasin is Managing Director with Allied Advisers, a global technology-focused boutique advisory firm headquartered in Silicon Valley
Itay Sagie is The Israeli Senior Advisor to Allied Advisers and founder of VCforU, a lecturer and strategic adviser to startups and investors