Global corporations are key to Israel's corporate success, report finds
A new report by Mind the Bridge suggests that much of Israel's success and capital comes from international corporations willing to work in Startup Nation
A new report by innovation advisory organization Mind the Bridge has confirmed that the Israeli tech ecosystem relies on global corporations who are willing to work with and alongside locals.

Chairman of Mind the Bridge, Alberto Onetti, spoke with CTech about what draws international attention to the startup capital of the Middle East. "I strongly believe that the success of support for Israel... is this concentration of mature technology solutions." He reveals that the solutions, as well as the concentration of them relative to other countries, are very attractive for large corporations.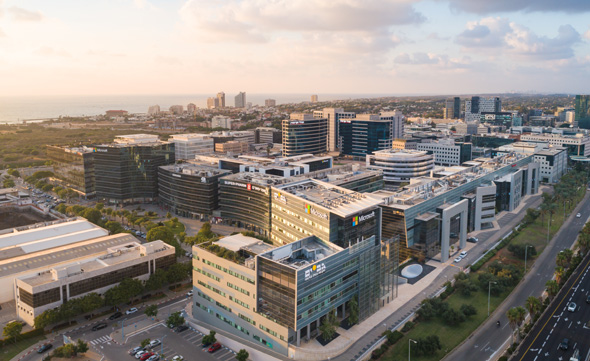 Israeli tech scene. Photo: Shutterstock

Mind the Bridge is aware that large companies don't have the time or patience to develop their own solutions. Israel, on the other hand, has more than 100 different R&D centers and 45 corporate innovation labs - perfect to develop technology that could one day be acquired by a parent company.

"There are two ecosystems in the world where you can find maturity and concentration of startups. Silicon Valley and Israel," he said.

Mind the Bridge helps corporates and government organizations identify and connect with startups around the world. Each year, it scouts and works with more than 5,000 startups that might be a good fit with existing companies. Often, it leads to licensing, investment, or even acquisition.

In total, the report tracked 198 outposts from 155 companies. Out of these posts, 79 of these were from the United States and 50 were from Europe.

Of course, 2020 is doomed to suffer a different fate from previous years due to the coronavirus pandemic and subsequent lockdowns around the world. Concerns might soon arise for a country whose ecosystem relies so much on support from overseas.

"The companies most affected are at the early stage and seed stage. Deals already under discussion will be completed. If you're already in discussion with someone before Covid-19 then you'll be safe. What is happening is that you cannot go hunting for new stuff. Investors need to focus on their existing portfolios. New deals, particularly at the early stage, will definitely be eaten alive."

Right now, it is impossible to fully understand the impact that Covid-19 might have on Startup Nation. Reports coming out of China, who Onetti admits is three months ahead of the rest of the world, are showing drops in investment of around 40%.

However, with outposts in future facing industries like electronics, automotive, and biotech, it remains clear that work will continue as usual — at least until investors can look to scout once more.