Israel successfully launches new spy satellite
The Space Administration in the Ministry of Defense led the development and production of "Ofek 16", an electro-optical reconnaissance satellite with advanced capabilities
Israel successfully launched its new spy satellite, the Ofek 16, early Monday morning. The reconnaissance satellite was launched into space on a Shavit launcher at 4 a.m. from the Palmachim airbase in central Israel and it is expected to further enhance Israel's spying capabilities from space.

"The Space Administration in the Directorate of Defense Research and Development (DDR&D), of the Israel Ministry of Defense (IMoD), and Israel Aerospace Industries (IAI), have successfully launched the "Ofek 16" reconnaissance satellite into space, today at 4:00 AM," the Defense Ministry said in a statement.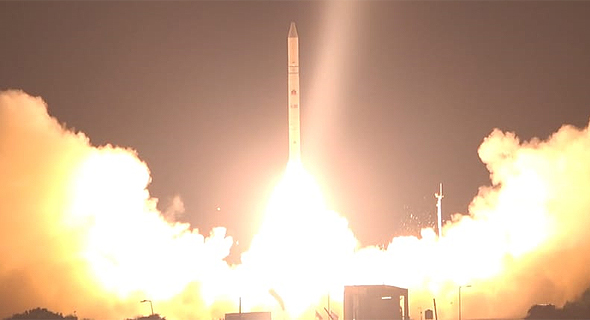 Ofek 16 satelite is launched into space. Photo: Ministry of Defense

Shortly after the launch, Ofek already began orbiting around Earth and transmitting data.

Defense Minister Benny Gantz called the launch an "extraordinary achievement."

"Technological superiority and intelligence capabilities are essential to the security of the state of Israel," he said. Gantz added that Israel is among only 13 countries that can launch their satellites independently, standing alongside the U.S., Russia, China, France, Italy, U.K., India, Japan, South Korea, North Korea, Ukraine and Iran.

The launch of Israel's first intelligence-gathering satellite, called Ofek1, was conducted on September 19, 1988. The launch was carried out in secret in order not to reveal to Israel's regional enemies the country's technological advancement.

The last time Israel launched a spy satellite was four years ago, when Ofek 11 took off from the Palmachim airbase in September 2016.

"Ofek 16" is an electro-optical reconnaissance satellite with advanced capabilities. Its development was the result of experience gained by the defense establishment in the production of earlier satellites in the Ofek series.

"IMoD and IAI engineers have started a series of pre-planned tests to determine the performance level of the satellite before it begins its full operational activities," said the Defense Ministry.

"We will continue to strengthen and maintain Israel's capabilities on every front, in every place," added Gantz.

While the launch was planned long ago, it comes amidst heightened tensions between Israel and Iran, with the New York Times reporting on Sunday that it was Israel which planted a bomb at the Natanz nuclear complex last week, causing significant damage to a building where advanced centrifuges were being developed.

The Space Administration in IMoD has led the development and production of the satellite and its launcher. IAI is the prime contractor, having assigned the program to its Systems, Missiles and Space Group together with the MLM Division, which is responsible for the development of the launcher. Elbit Systems is responsible for the development and production of the satellite's advanced camera and payload. The launch engines were developed by Rafael Advanced Defense Systems and Tomer, a government-owned company. Additional companies have participated in the program, including Rokar and Cielo.

Once the satellite is deemed fully operational, the Ministry of Defense will deliver responsibilities to the IDF's '9900' Intelligence Unit.