AI cancer treatment startup Nucleai raises $6.5 million in series A round
Nucleai's software uses computer vision and machine learning algorithms to predict the progress of cancerous tumors as well as the patient's immune system response in order to determine the most efficient treatment
Tel Aviv-based cancer detection startup Nucleai Ltd. has raised $6.5 million in a series A round led by Lausanne, Switzerland-based biopharmaceutical company Debiopharm Group, the companies announced Tuesday. Existing investors Vertex Ventures Israel and Grove Ventures Capital (GP) Ltd. also participated in the round that brings Nucleai's total funding raised to $11.5 million.

According to one person familiar with the matter who spoke to Calcalist on condition of anonymity, Nuclei intends to raise an additional sum of between $2 million and $3 million to complete the round.

Nucleai's software uses computer vision and machine learning algorithms to predict the progress of cancerous tumors as well as the patient's immune system response in order to determine the most efficient course of treatment. The company intends to use the funding for research and development and for increasing its commercial reach to pharmaceutical and biotech companies.

Nucleai employs 30 people, most of whom are currently working from home due to the coronavirus (Covid-19) crisis, CEO Avi Veidman told Calcalist, adding the company's offices remain open for those who prefer to come in.

According to Veidman, this is Debiopharm's first investment in an Israeli company.

As part of the investment agreement, Debiopharm and Nucleai will collaborate on predictive biomarker discovery for drug response and on improving data from clinical trials involving cancer patients.

Nucleai was founded in 2017 by Veidman, Eliron Amir, and Lotan Chorev, all veterans of Israeli military tech units.

Immunotherapy drug treatments were first approved for cancer in 2015, especially for skin cancer and melanoma patients where they have proved most efficient, Vaidman said. "As of now only 20% of people react well to these treatments but we can create a model of the immune system to predict who will react better to which drug," he added.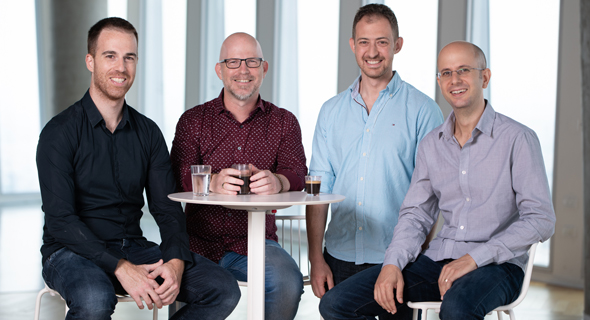 Nucleai co-founders Lotan Chorev (right), Eliron Amir, Avi Veidman, and Albert Achterberg. Photo: PR
"Our team is thrilled to embark on this adventure to develop and further understand the extent to which AI can help pathologists and oncologists become more precise in both diagnosis and prediction," Tanja Dowe, CEO of Debiopharm Innovation Fund, said in a statement. "We recognize the huge impact that Nucleai's AI-powered platform could have on clinical research for pharmaceutical treatments," she added.
"Our solution is purely based on software which is embedded into the biomarker researcher workflow. This allows us to scale our solution rapidly, to provide service to a large number of pharmaceutical and biotech partners as well as to patients," Amir, who Nucleai's chief operating officer, said in a statement. "It is an elegant solution to a complex problem. There is no need for an expensive wet-lab biology operation. Our cloud-based solution allows us to gather huge amounts of immuno-oncology data from different sources, creating complex insights that a single pharma or institute cannot generate by itself," he added.