Cybellum announces strategic cybersecurity partnership with Renault-Nissan-Mitsubishi's innovation lab in Tel Aviv
The strategic cooperation will focus on vehicle-level risk assessment taking into account the architecture of the vehicle model and the automated assessment of a vehicle's complex mesh of software and hardware
Israeli automotive cybersecurity company Cybellum announced on Wednesday a strategic partnership with The Alliance Innovation Lab Tel Aviv. Following a successful proof of concept of Cybellum's solution, done by the Innovation Lab, the two will cooperate to build "innovative cybersecurity technologies to be implemented in the automotive market," according to their press release.

The Alliance, which includes Renault, Nissan Motor Company and Mitsubishi Motors and inaugurated its innovation lab in Tel Aviv in June of last year, is working on four major areas of innovation in order to develop the mobility of the future: electrification, connected vehicles and services, autonomous driving, and new mobility services.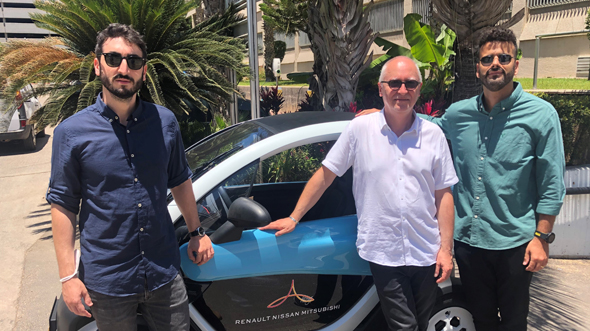 Slava Bronfman (left), Cybellum CEO, Etienne Barbier (center), Director at the Alliance Innovation Lab Tel Aviv and Eldad Raziel, Cyber Security Leader at the Alliance Innovation Lab Tel Aviv. Photo: Courtesy
"At the Lab, we are looking into fresh, novel approaches to the most fundamental problems in our industry, among which is cybersecurity," says Etienne Barbier, director at the innovation lab. "Managing software security is no longer an optional activity for car manufacturers but a mandatory transformation to a future with fully automated, self-assessed, self-healing software. The Cybellum team built the technology foundation necessary to make this future a reality."
The collaboration comes on the back of two new UN regulations on cybersecurity and software updates in the automotive industry adopted two weeks ago by UNECE's World Forum for Harmonization of Vehicle Regulations. They are set to become mandatory in the European Union for all new vehicle types from July 2022 and will require that measures be implemented across four distinct disciplines: managing vehicle cyber risks; securing vehicles by design to mitigate risks along the value chain; detecting and responding to security incidents across vehicle fleets; providing safe and secure software updates and ensuring vehicle safety is not compromised and introducing a legal basis for so-called "Over-the-Air" (O.T.A.) updates to on-board vehicle software.
The strategic cooperation between Cybellum and the innovation lab will focus on vehicle-level risk assessment, taking into account the architecture of the vehicle model and the automated assessment of a vehicle's complex mesh of software and hardware. Cybellum automotive risk analysis solutions automatically detect a wide range of vulnerabilities in in-vehicle ECUs (engine control unit) and other automotive software. Cybellum already partners with 10 leading OEMs (original equipment manufacturer) and Tier-1 suppliers worldwide.
"We are happy to collaborate with the Alliance Innovation Lab Tel Aviv. Their expertise of current and future vehicle architectures together with the importance of security as a significant part of it creates a shared vision of how automotive software lifecycle should evolve to meet the new market realities. This will help us drive our business forward, and with it, improve the safety of car drivers worldwide," said Cybellum CEO Slava Bronfman.
"Our collaboration with Cybellum will bring to the market the first solution that can calculate the risk of a vulnerability in the full vehicle context, help the Alliance brands to manage the risk accurately, save time and be competitively prepared for upcoming regulations", said Eldad Raziel, cybersecurity leader at the Alliance Innovation Lab.