Opinion
U.S. military aid must not be used to facilitate annexation
"If Netanyahu's government pushes forward annexation it will distance itself from America"
The security assistance which the United States provides to Israel has been an important element of the relationship between our two countries and one that I have consistently supported. Israel is a close ally that lives in a very volatile area and the horrible lessons of the Holocaust have been an important reason for my and many others' support for security assistance to protect the homeland of the Jewish people.
That is why I support the multi-year Israeli aid agreement concluded by the Obama administration, currently before Congress, which would provide $3.8 billion in annual military and security assistance to Israel for a decade. This was the largest security assistance agreement in American history and represents more than half the annual total of such U.S. aid to the entire world.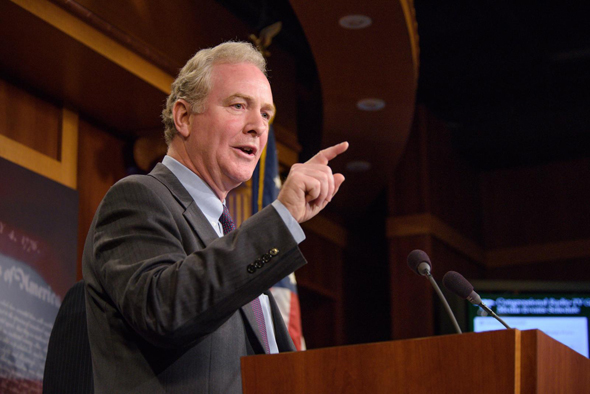 Maryland Senator Chris Van Hollen. Photo: Spokesperson
However, while I remain strongly committed to the security of Israel, I am also strongly opposed to Prime Minister Netanyahu's declared intention to unilaterally annex parts of the West Bank. Unilateral annexation will undermine the longstanding understandings between the United States, Israel, the Palestinians and the international community, and sabotage any remaining chance of a negotiated two-state solution. That is why I joined together with more than 12 of my Senate colleagues to submit an amendment which would continue to provide $3.8 billion in annual assistance, but specify that the aid could not be used to promote unilateral annexation.
US security aid is not intended to facilitate unilateral moves that destroy the prospects for a negotiated peace agreement. In fact it's the opposite. Security aid should provide Israel with the confidence to advance a negotiated two state solution with the Palestinians. That was the understanding of President Obama when the 2016 Memorandum of Understanding was signed, as well as of his predecessor, President Bush, who entered into the previous multi-year U.S. security assistance agreement with Israel.
As numerous Israeli political and security experts have pointed out, unilateral annexation will make both the U.S. and Israel less secure. It will destroy America's credibility in opposing violations of international law elsewhere in the world. It will undoubtedly deepen Israel's isolation within the international community and weaken allies such as Jordan. It will threaten Israel's warming relationships with the Sunni Arab states and likely lead to the demise of the Palestinian Authority and Israeli-Palestinian security cooperation in the West Bank. The big winners will be Iran, Hamas and Hezbollah.
Annexation will also present Israel with two bipolar options: grant equal democratic rights to all residents of the annexed territories while risking its Jewish identity or, as two former Israeli prime ministers have described it, deteriorate down the dangerous slope toward apartheid. We often say that the U.S. -Israel relationship is strong because of our shared values, but denying the Palestinians self-determination and basic human rights is not a shared value. If the Netanyahu government advances in this direction, it will be distancing itself from America.
As friends, it is our duty to provide Israel with the support it needs for its security, but not to facilitate or promote something that harms our mutual interests.
Chris Van Hollen is a United States Senator representing Maryland