LivePerson CEO Rob LoCascio explains how personal tragedy led his company to abandon the office
Speaking on the '30 Minutes or Less' podcast, LoCascio talks with hosts Navot Volk and Aviv Frenkel about Covid-19, working from home, and the future of work.
LivePerson, the conversational AI software company, is pivoting its business to work entirely from home, Rob LoCascio, the company's global CEO confirmed in Calcalist's '30 Minutes or Less' podcast this week. The company, which first opened in Raanana in 2000, will close all 17 of its global offices going forward after announcing earlier this month that it was shutting its office in Israel.

For LoCascio, the decision was personal. LivePerson tragically lost a 23-year-old employee to Covid-19 in April—an event that helped frame the decision to make every employee feel safe and comfortable.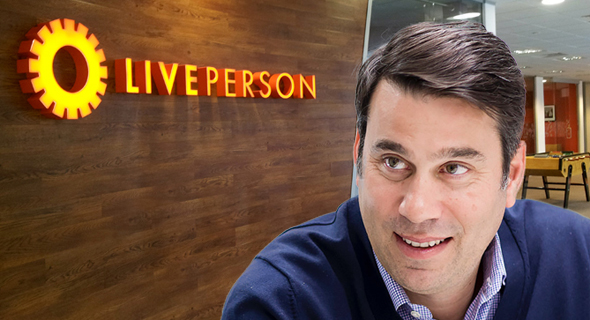 Rob Locascio. Photo: Liveperson

LivePerson's solution helps businesses of all sizes increase conversion rates and reduce customer care costs by providing sites with automated 'chatbot' configurations. With more people working remotely and shopping online, business is booming but changes still needed to be made.

Until the Covid-19 outbreak, LivePerson was spending roughly $12 million a year on rented office space, adding up to around $8,000 per employee. By cutting the cost, that budget can be redistributed into shared co-working spaces if desired or even helping workers set up home offices.

The decision came about because "the landlords weren't doing their jobs", explained Locascsio. "Landlords are not providing a product we can use - their offices aren't safe."

"It's giving flexibility to the employees, which is powerful. Now, they can decide to stay at home or move somewhere else." LoCascio claimed that since the decision isn't being dragged through the summer and into the end of the year, workers can better plan their own lives.
(For English, fast-forward to the 70-second mark)
The move might be seen as radical, but it's in line with how he views the world.

"What is Coronavirus asking us to change?" he asked the hosts Navot Volk and Aviv Frenkel. "Each crisis asks us to do something… Instead of waiting for something to happen, let's release ourselves from our past and the office IS our past."

LivePerson previously had 50% of its workforce working from home, so the decision impacted around 600 people. He predicts that teams will still meet every so often to maintain the organizational culture and communication, while a global company gathering will happen once a year. LivePerson is still working out the 'mechanics' of moving everyone remotely, but since big banks of 40,000 people could do it in a few days, why can't LivePerson? The estimated date for the permanent transition is August 2020.

"Never let a good crisis go to waste", he half-joked. With office space shutting down and more teams working remotely, companies can hire on a global scale, and employees can spend less time commuting and more time with their families.

"The virus taught us that contact centers are like factories: They shouldn't have existed. We are not going back," LoCascio stated. "Humans don't go back, we go forward."

The 30 Minutes or Less podcast is hosted by Navot Volk and tech entrepreneur Aviv Frenkel. The two interview tech founders, investors, and other key members of the Israeli tech ecosystem.