VC firm Amiti secures $110 million for third fund
Modi Rosen of Tel Aviv-based venture capital firm Magma, joined forces with Amiti's founder Ben Rabinowitz to establish the new early stage fund
Tel Aviv-based venture capital firm Amiti Ventures announced Monday it has secured $110 million in commitments for its third fund. Founded in 2010 by managing partner Ben Rabinowitz, Amiti focuses on early stage tech companies.

Modi Rosen, who co-founded Tel Aviv-based Magma Venture Partners, which no longer raises new funds, joined Amiti last year as a managing partner. Maya Pizov, formerly of Viola Ventures is also a partner in the fund.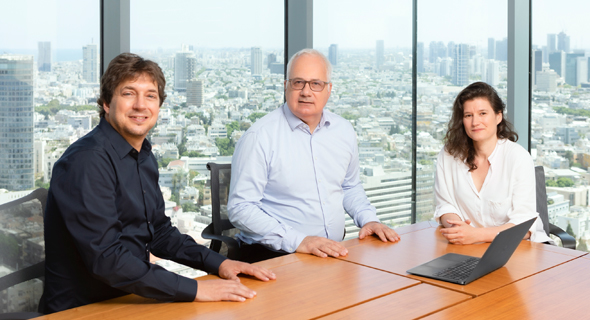 Ben Rabinowitz (Left) Modi Rosen, and Maya Pizov. Photo: Amiti Ventures

"Ben and I joined forces in favor of the new fund," Rosen said in an interview with Calcalist. According to him, the new fund has already made two investments.

Rosen said he believes investments in early stage companies are going to suffer due to the global coronavirus (Covid-19) crisis. Big investments are all about the numbers but early stage investments are about people and vision, he said. "U.S. funds and corporations that used to invest in Israel have stopped and we are headed towards a difficult time that will have an impact for at least another year," he added.

According to Rosen most of the new funds were raised from international investors outside of Israel.

"Investors have to know when to help companies, to let the executives do their jobs, and to be involved in critical decisions where they can really make a difference," Rosen said, adding he tries to pick entrepreneurs he can build such a relationship with.

Between the two of them, Rosen and Rabinowitz have invested in some of the most successful Israeli companies of recent years, including Google-owned mobile navigation app developer Waze Ltd., marketing analytics company AppsFlyer Ltd., network security startup CyCognito Ltd., and 3D imaging sensor company Vayyar Imaging Ltd. The two previously invested together in LiDAR startup Innoviz Technologies Ltd., smartphone camera company Corephotonics Ltd., vehicle-to-vehicle communication chips company Autotalks Ltd., and automotive chip company Valens Semiconductor Ltd.

"To be honest, I was sorry to hear the news that there will not be a fifth Magma fund," Rabinowitz said in an interview. "On the other hand, it was a rare opportunity for us, as two experienced venture capital investors who like and appreciate each other, to join forces and launch a new fund," he added.