NetApp completes Spot.io acquisition for $450 million
Spot.io offers cloud computing optimization services to software-as-a-service (SaaS) companies. Using machine learning algorithms, it monitors the availability and pricing of computation power offered by cloud services to optimize use by clients
Nasdaq-listed hybrid cloud data services company NetApp Inc. has completed the acquisition of Israeli cloud services company Spot.io for $450 million, the company announced on Monday. According to the deal, that was first published by Calcalist, Spot will continue to operate as an independent department within the American corporation.

Spot, formerly known as Spotinst, was founded in 2015, by Amiram Shachar, who currently operates it out of California, Liran Pollack, the company's chief architect and Aaron Twizzer, its chief technologist. The company began its journey at the Faculty of Computer Science of the College of Management as Shahar's final project.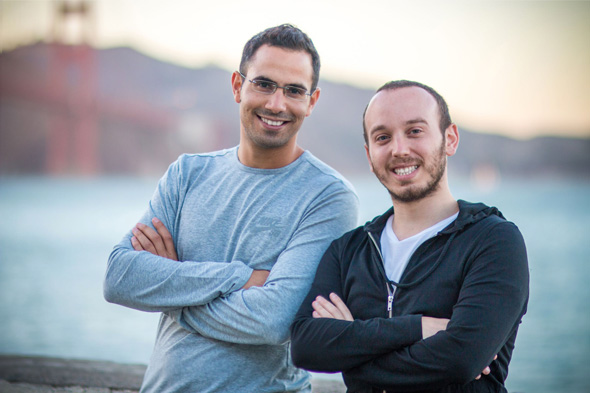 Spot.io co-founders Amiram Shachar and Liran Pollack. Photo: Courtesy
Today Spot.io offers cloud computing optimization services to software-as-a-service (SaaS) companies. Using machine learning algorithms, it monitors the availability and pricing of computation power offered by cloud services to optimize use by clients. The major cloud companies often use the services of the Israeli company to optimize the use of their services and retain customers. The company evaluates server costs for its customers, offering them the best prices they can find in real-time. A key part of the company's software is a control system that constantly checks the services that its customers receive and warns them if the cloud service they are storing on is altering prices or considering removing them.
NetApp offers hybrid cloud data services for management of applications and data across cloud and on-premises environments and is traded at a company value of $9.5 billion.
"Together, we are extending NetApp's vision for helping customers unlock the best of cloud," said Anthony Lye, senior vice president and general manager of NetApp's Public Cloud Services business unit. "With Spot by NetApp, we will enable customers to get more out of their cloud investment to gain competitive advantage and accelerate their business success."
"Cloud infrastructure gives application developers the ability to develop and deploy applications faster by providing resources almost instantly at any time," said Shachar, CEO and co-founder of Spot. "We are excited to join NetApp in pursuit of the shared vision to help application owners embrace and take advantage of the full power of the cloud."
Spot.io, incorporated as Spotinst Ltd., has raised a total of $52 million to date. Among the company's investors is Highland Capital, which led its latest round of funding, Intel Capital, the investment fund of Intel, Vertex Ventures Israel, Springtide Ventures, Pico Ventures, and Leaders Fund, according to the IVC database. The company employs 150 workers in its offices in Tel Aviv, London, and San Francisco.