Blockchain cybersecurity startup Valid Network raises $6 million
Ten Eleven Ventures led the round with participation from JVP, the company's first investor together with the Israel Innovation Authority in 2018
Israel-based blockchain cybersecurity startup Valid Network Ltd. has raised $6 million in a seed round led by Boston-based Ten Eleven Ventures LLC, with participation from Jerusalem Venture Partners (JVP). JVP was the company's first investor together with the Israel Innovation Authority and led its seed round in 2018.

The company, which was founded in 2017 and employs 13 people out of its offices in Beer Sheva, joined JVP's cybersecurity accelerator, JVP Cyber Labs, following the seed round. Valid develops enterprise software for securing smart contracts capable of identifying code vulnerabilities, possible loopholes, changes between versions, and abnormal activity to prevent fraud.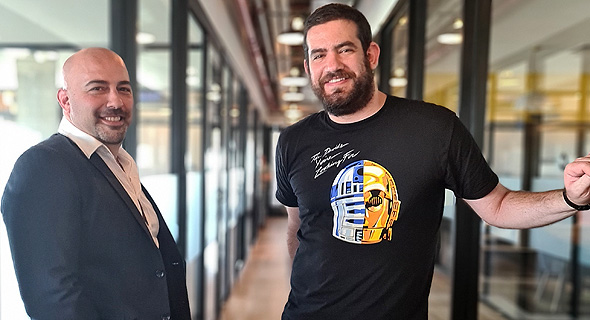 Valid Network co-founders CEO Kfir Nissan and CTO Gilad Eisenberger. Photo: Valid Network
Valid will use the new funding to continue its research and development, as well as expand its workforce. Valid also intends to open an office in New York to strengthen its business development and build partnerships with companies and organizations abroad.
Valid Network was founded by Kfir Nissan, who serves as the CEO, and Gilad Eisenberger, the CTO. "We founded Valid Network with the vision and belief that blockchain technology will open up a whole new world of business opportunities for companies across the world to create and adopt more efficient workflows," said Nissan.
Businesses currently build applications that use decentralized technology in order to meet the challenges involved in managing transactions and activity, including payments and settlements, resources, tracking assets, managing clients and financial trading information, and more. Using decentralized technology for managing data in these scenarios can reduce friction and costs, improve cash flows, and enable new business models, making blockchain-based applications a strategic tool for companies across the world. According to a survey of CIOs (Chief Innovation Officers) conducted by global research and advisory firm Gartner, 60% of CIOs that responded said that they intend on implementing blockchain apps over the next three years.
Even though blockchain technology is regarded as a relatively safe technology, that is not necessarily the case. The development and deployment of complex decentralized global applications that share business processes and data between companies have exposed new security challenges. Valid is meeting these challenges with its multi-stage solution for protecting smart contracts throughout their lifecycle and includes: code vulnerability detection, intrusion detection, version compatibility checks, and anomaly detection – while focusing on fraud prevention, regulation, and continuous real-time assurance.
In addition, the Covid-19 pandemic has accelerated the digital revolution and created new use cases for blockchain with the innovation in online medicine, managing supply chains, online retail, and autonomous services.
"We believe in the potential of blockchain technology to enable efficiency and innovation for businesses at a level that didn't previously exist," said Mark Hatfield, founder, and general partner at Ten Eleven Ventures, who will be joining Valid Network's board. "In order to do that successfully, organizations need to make sure that they have a sufficient security solution."
"Valid's breakthrough technology is the first of its kind for protecting blockchain systems," said JVP partner, Gadi Porat. "We have recently witnessed organizations adopting blockchain technology for internal use. There is a significant need to allow broader access to this technology while maintaining adequate security."