Israeli startup NovaSight completes $8 million series A funding round
The company's products help cure myopia in children by using eye-tracking glasses
Israel-based vision care startup NovaSight Ltd. announced on Monday that it had completed an $8 million series A financing round led by Rimonci Capital and joined by strategic investors from both pharmaceutical and medical device industries. The recent round brings NovaSight's total funding to $16 million.

NovaSight was founded in 2016 and develops technology to treat lazy eye among children. Among its products are eye-tracking based active glasses for myopia control. According to the company, myopia (near-sightedness) has become a global epidemic in the 21st century, affecting a third of the population, increasing risk of visual impairments and even blindness later in life. The WHO predicts that over half of the world population will suffer from myopia by 2050. NovaSight plans to develop additional products that would allow for automatic detection and monitoring of retinal diseases and cognitive dysfunctions such as Dyslexia and ADHD.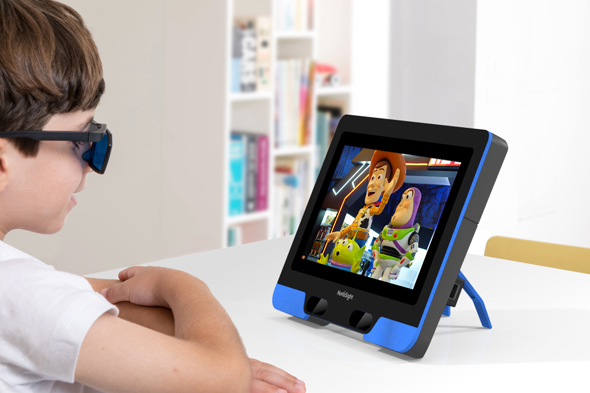 A child wearing eye-tracking glasses. Photo: NovaSight
"Our products are improving patient quality of life in a fun and easy way. Our focus is on the hundreds of millions of children who suffer from vision disorders and if left undiagnosed and untreated can lead to significant eye health problems in adulthood," said NovaSight CEO Ran Yam. "During Covid-19 when it's impossible to visit hospitals or clinics, alternative healthcare diagnosis and treatment methods are required, we're putting emphasis on continuing to develop telehealth solutions. Our products are ideally positioned for remote diagnostics and home treatment."