Dozens of protesters arrested as demonstration in front of PM's residence turns ugly
The "Black Flags" demonstration was organized in response to police's removal of tents set up by anti-corruption activists outside the premier's residence
Thousands of protesters, many carrying torches, scuffled with police in front of the Prime Minister's Residence in Jerusalem on Tuesday night, calling on Benjamin Netanyahu to resign.

The "Black Flags" demonstration began in the evening hours in response to police's removal of tents set up by anti-corruption activists outside the premier's residence. The demonstrators have staged a sit-in outside Netanyahu's official residence in Jerusalem for the past month, calling on him to resign due to corruption charges.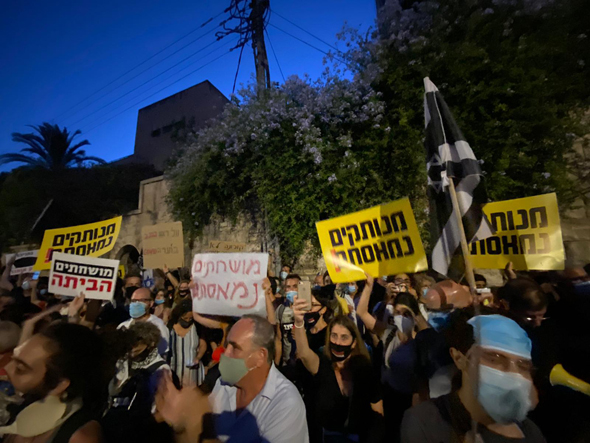 Protest outside the Prime Minister's Residence in Jerusalem. Photo: Jonathan Kessler
The protestors were waving black flags, which they say symbolize the death of Israel's democracy during Netanyahu's tenure as Israel's leader, and shouting, "Bibi, go home" and "This is our country, not Netanyahu's".
Many held posters, saying "You are detached. We are fed up," or saying there is "no way" a politician under indictment can be prime minister. Demonstrators, defying orders to maintain social distancing requirements, chanted slogans, blew horns, and threw water bottles at the police.
Several activists tried to storm the residence but were dragged away by police officers, resulting in scuffles. Amir Haskel, a former Israeli air force general and one of the leaders of the protest said it was set to coincide with The Storming of the Bastille in Paris in 1789.
"Today, 231 years ago, the French Revolution broke out with a motto: 'Liberty, Equality, Fraternity'" he wrote on Twitter. "We seek to add to that: morality and justice."
Police said it detained a total of 50 protesters, most of them after the main demonstration had ended. Several hundred demonstrators continued to march through the streets of Jerusalem following the protest in front of the PM's residence, blocking roads and the light rail while clashing with police.
Netanyahu has seen his popularity drop in recent weeks as he comes under criticism from several directions. A loose-knit movement has held a number of demonstrations saying that Netanyahu is unfit to lead at a time when he is on trial. Others have taken to the streets to protest lack of government aid amid a worsening economic crisis caused by the coronavirus pandemic.
In addition, a rally marking nine years since the start of the social justice protests in the summer of 2011 took place at Charles Clore Park in Tel Aviv. Around 400 people gathered at the park ahead of the protest, organized by Daphni Leef, one of the organizers of the July 2011 demonstrations.
"We are in the beginning of a huge crisis, and it is clear that there is no leadership to expect solutions from," said Leef. "The trust has been destroyed, despair is on the rise, but the people are waking up. It is time to remember that only together will we create the strength to achieve solutions and change."