Tech veterans offer an alternative fast track to the coveted exit
Instead of working for the big payday for many years, Ram Yonish, co-founder of Cymplify, says entrepreneurs should give more thought to making a quick exit
Startups like Mobileye and Habana Labs, which we're recently acquired by Intel, are wonderful examples of Israeli companies bought for billions of dollars. But the tech industry also experiences countless disappointments. Most startups won't be sold for billions or even tens of millions, and many entrepreneurs will have to fold the companies which they worked their heart out to build.

Ram Yonish of Cymplify and Yevgeny Pats of Fuzzit charted a different course to the exit everyone longs for. Within a few months they sold the companies they founded for millions of dollars while making a minimal investment.

Pats, a graduate of the Israeli Defense Forces (IDF) Unit 8200, known as the country's NSA equivalent, had previous experience with exits, working for Hyperwise when it was acquired by Check Point in 2015. He set up Fuzzit by himself in 2019 and employed several workers remotely to help him develop the company's technology. Fuzzit was eventually sold last month to web-based DevOps company GitLab Inc. without ever receiving funding from VC funds or angels, so the entire sum of the sale went into Pats' pocket.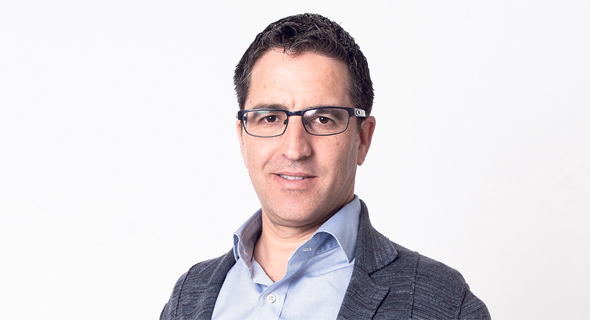 Ram Yonish, founder of Cymplify. Photo: Sam Jacobson
Yonish joined Yali Sela and Gili Yankovitch, who both previously served in the IDF's coding unit, to set up Cymplify that developed a firmware analysis engine for IoT security that provides highly detailed cybersecurity posture reports. Just six months after it was founded Cymplify was purchased by Check Point for several millions of dollars.
Yonish told Calcalist that entrepreneurs need to give great thought to the road they plan to travel before embarking on the long journey of founding a company. "I know plenty of young entrepreneurs who work for two or three years without taking a salary and without food in their fridge and end up being stuck without means to develop their company," he said.
Yonish isn't a young entrepreneur and this isn't his first experience at setting up a company. But at 47 he understood that the road to an exit doesn't necessarily have to go through VC funds or giant funding rounds, but that it is possible to reach a sale very quickly. Yonish worked for IT company Matrix for 11 years, with his last role at the company being VP Sales, Marketing and BizDev. While at Matrix, he set up Startup Grind TLV with Shahar Matorin, a community that is meant to spread inspiring stories and connect early-stage entrepreneurs with those who have already succeeded.
Yonish met Yanokovitch and Sela at one of the Startup Grind events and they offered him to join them. "When I felt secure enough I left Matrix and we set up Cymplify in April 2019. We sold the company to Check Point in November," said Yonish.
Despite the simplistic description of the sale, Yonish said he didn't rush into it and was even very close to accepting a large investment from a Portuguese investor. "We were at a very early stage and ultimately we decided to choose Check Point over an investment," he explained. "From the moment we set up the company we gave ourselves a target of nine months to either complete a big round or a sale."
It was a meeting with Check Point that helped him reach the decision. "I arrived at a meeting with a senior Check Point executive and he very quickly told me that our technology interests them, whether as part of a corporation or an acquisition. That made me understand that you can also do things differently. Everyone thinks about building the next unicorn but no one thinks about making a quick sale. For me, it made me calmer from both a financial and professional standpoint."
After realizing that a quick exit can also be a good option, Yonish decided to help other entrepreneurs take a similar course. "My message to entrepreneurs is that there is nothing wrong with founding a company and selling it quickly. That should be the aspiration," he said. "That way you will reach your next innovative project when you are calmer and more experienced and you can build something even bigger. A lot of companies fail at the pre-seed and seed stage. But if you come from a secure place as someone who has already experienced a successful exit, your chances of succeeding are far greater."
Yonish added that raising money from funds is a good thing, but that it shouldn't be considered as the only route. Yonish did stress that his route is only suitable for startups which have a proven technological solution for a particular problem.
"When we have a technological solution we will look for corporations that could use this solution," he explained. "Most VCs ask startups who their clients will be and what their expected growth is. We, on the other hand, want to already meet with the corporations at the start and see what they are looking for and provide a real solution for their needs. Instead of waiting years for a big exit we can sell our technology quickly for millions of dollars. We are talking about sums of up to $10 million. I'm looking for entrepreneurs that haven't raised money from VCs who have a technological solution and are working with a strong technological team. I want to come to the corporation with a simple deal for a sum that doesn't move the needle for them. But the entrepreneurs also need to be flexible in their demands and not ask for too much money."