Israeli robotic bee hive startup Beewise raises $10 million in series A funding
The Israeli Beewise hopes to replace the old hives and make them smarter so that bees can be monitored remotely and treated without human contact.
Robotic hives company Beewise Technologies Ltd's has raised $10 million, in a financing round led by Fortissimo Investment Fund and participated by Michael Eisenberg, lool Ventures, Atooro Fund, and ARC Impact. Alongside the fundraising, the company also received a $2.5 million grant from the European Union's Horizon 2020 program and $1 million from the Israel Innovation Authority. To date, the company has raised $16 million, including a seed round, led by lool Ventures, and Atooro Fund.
The company was founded in 2018 by five partners: Elia Radziner, Hillel Schreier, Boaz Paterzil, Yossi Surin, and Saar Safra. Its headquarters is located in Israel's Western Galilee.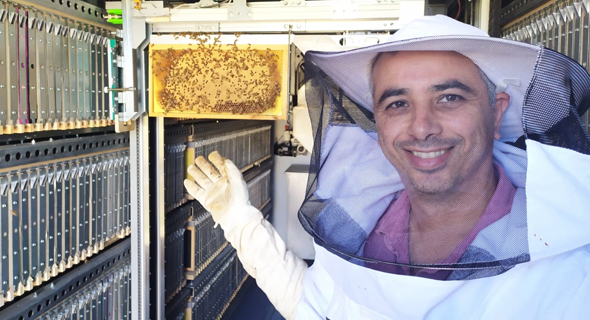 Founder and CEO Saar Safra. Photo: Beewise

"My partner is a veteran beekeeper and he told me that it is unacceptable that hives are collapsing and thousands of bees are dying and with no technological solution that will stop it," Saar Safra, Beewise's founder and CEO, told Calcalist.

Beewise develops a tool called Beehome, a robotic beehive that can house more than 40 colonies at once. It includes cameras with computer vision technology and sensors that can adjust the climate automatically. The device then sends insights to the beekeeper's smartphone via an app so they can keep track of honey production and care for the hive's needs.

The world of bees and pollination has been in great danger in recent years. According to the company, three out of four crops that produce vegetables, fruits, seeds, and nuts for human consumption and 35% of all agricultural land depend on bee pollination. Recently, high rates of disturbances affecting honeybee colonies all over the world have been reported. The unexpected bee colony mortality rate put pressure on the shortage of pollinators, reaching an unprecedented global rate of 35% compared to 2-3% three decades ago.

This mortality rate poses a threat to the existence of bee honey, since beekeepers will not be able to sustain the bee population when the annual mortality rates exceed 50%. The mortality rate is mainly due to new pests, diseases and climate change.

One of the most difficult problems in the beekeeping world is the collapse of hives. Each year, about 40% collapse and hundreds of thousands of bees die from various causes. To this day, the only solution available has been a regular replacement of hives each year at a huge cost.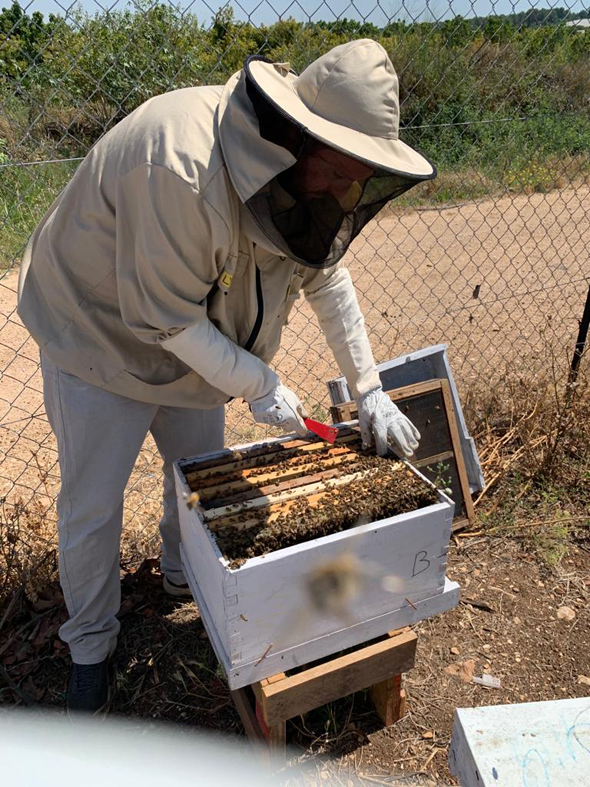 Beewise. Photo: Beewise

"If you give the beekeeper one hive he will know how to take care of it and save it and no hive will collapse. But when you talk about the commercial world they visit the hive once a month. Eighty percent of the hives in the world are run by commercial beekeepers - the rest are home-grown," says Safra. 100 million hives are managed by commercial beekeepers. The beekeeper moves between the hives every day but only manages to reach most of them once a month when they discover the collapse. This is how it is all over the world.

"There is not enough manpower in the field and the business model will not work," he added. "In recent decades, many billions of dollars have been poured in in order to solve the problem. They tried to change the DNA of the bees, reduce pesticides, put hives in different places - nothing worked. The only thing that works is to treat the bee in real time."

"Our mortality in hives has dropped from 40% to 8%. We provide a complete solution to the needs of the beekeeper who can remotely control his hives using the iPad, our robot can even enter the hive instead of the manual test," says Saar Safra. "Our hardware is not complicated, but one that can be bought from the shelf. The main knowledge is in our software which is the first to understand what happens in the hive. We have actually developed a virtual beekeeper and today there are dozens of hives already operating in the country. The largest honey producer in Israel, Kibbutz Dan, already works with us."

"The United States is the main target market but Corona is now holding us back a bit from starting full commercial activity there," Safra said. "We signed the 40 largest bees in the world there. They were insanely enthusiastic. It's a $30 billion a year market."

Saar Safra returned to Israel several years ago after a long stay in the United States, where he moved following the sale of the company. He was also one of the founders of Ad4ever, and then founded several companies that sold for hundreds of millions of dollars, such as Impact LA, which combines vital social action alongside business activity.

"I started helping the company for free out of a desire to get to know them and integrate into the industry in the country." After several trips to the United States, he said, he realized the importance of the product. "On my last visit to the United States I was able to sign a series of leading beekeepers on tens of thousands of hives. Basically, these insights led us to start the company and start running."

Beehome detects diseases, roams the honey, detects problems before they break out, and allows a significant reduction of tens of percent in the collapse of the hives. The fully solar-powered system can manage 24 to 40 hives and reverse their operation like pollination, honey production or reproduction. Beewise's development includes an automated system for managing robotic growth boxes and is based on computer vision, an AI-based monitoring system, decision making, and predictive analysis. It also includes a harvesting system and an automatic system for pest control, feeding and thermal regulation.