$100 million investment in Israel is just the beginning, says Shengjing Peakview Capital exec
Sherrie Wang, Managing Partner at one of China's largest global fund of funds, is optimistic regarding China-Israel economic relations
Since 2013, Shengjing Peakview Capital (SPC), the investment arm of Shengjing Group and one of China's largest global fund of funds, has invested nearly $100 million in top VC funds and startups in Israel. SPC, based in Beijing, manages over $20 billion and has invested in around 16 top funds in China, the U.S. and Israel. Jerusalem Venture Partners (JVP) and Viola Ventures have both been among the beneficiaries of SPC's spending in Israel. But according to Sherrie Wang, Managing Partner for Shengjing Peakview Capital's overseas investment funds, this is only the beginning.

"Until now we did investments ourselves, but in the future we want to organize more resources with Chinese local governments and not just invest ourselves," Wang told CTech. "I think we can organize more resources to increase the cooperation between China and Israel in the future."

Since 2017 the Shengjing Group has also served as the mentor organization for the first "Israel-China Accelerator Program" initiated and sponsored by Israel's Ministry of Economy and Industry. Since February of this year, Shengjing Group has worked with the Nanjing Jiangning Development Zone (the largest industrial park in Nanjing) to represent and operate its Israel innovation liaison office and to further promote communication between Israel and China in science, innovation and culture. As part of this collaboration, SPC and Wang helped organize The T20 China-Israel Innovation and Culture

(CIIC) Conference, held on Thursday, as part of one of the most important technology conferences in China – Nanjing TechWeek.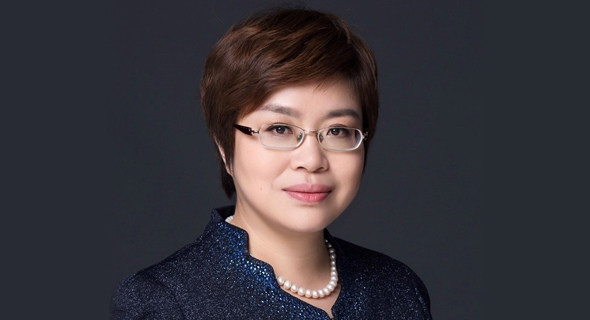 Sherrie Wang, Managing Partner, Shengjing Peakview Capital. Photo: Shengjing Peakview Capital
"We cannot allow Covid-19 to halt the development of trade and business activity between Israel and China," said Minister of Economy Amir Peretz from his office in Jerusalem during the opening ceremony. Among the conference's speakers were also the presidents of the Weizmann Institute and Tel Aviv University, as well as Nobel Prize laureates Dan Shechtman and Arieh Warshel.
The conference was dedicated to the promotion of scientific and technological relations between the two countries and was held for a second straight year, but for the first time as part of the conference hosted by the Nanjing Municipality and held at the Jiangning Development Zone.
"From 2017 we provided the service to the Ministry of Economy and Industry to have early-stage Israeli companies come to the Chinese market and receive training and development. After that we began working with Chinese local governments like Nanjing," said Wang. "These governments wanted to have a strong connection with the Israeli innovation ecosystem and they needed a bridge. They saw SPC as one of the ways to connect to Israel. That is why we are serving the Nanjing Jiangning Development Zone and connecting them to Israeli universities, incubators, accelerators and companies to find potential opportunities to work together."
During the conference, several strategic collaboration agreements were signed between Israeli and Chinese organizations. The Weizmann Institute of Science and the Technion Israel Institute of Technology signed an agreement with the Nanjing Tsingzhan Artificial Intelligence Institute and the Institute for Artificial Intelligence of Tsinghua University (THUAI), under which they will promote research and technological development of AI. An additional collaboration agreement was signed between the EcoMotion community, comprised of more than 600 Israeli smart mobility startups, the Jiangning Development Zone, and Shengjing Peakview Capital. The Chinese partners will assist Israeli companies with investor recruitment and penetration of the Chinese market. In addition, the Israeli startup companies will be featured in a central exhibition spot at the Jiangning High-Tech Park, considered as one of the leading centers of innovation in China. "Many of our member startups plan to enter the Chinese market and expand there in the coming years. This collaboration would enable us to overcome the associated challenges and difficulties and will provide the entrepreneurs an opportunity to collaborate with strategic partners in China," said Orly Dahan, CEO of EcoMotion.
Despite the setbacks of the Covid-19 pandemic, Wang is optimistic regarding the future of the financial ties between Israel and China. "For example, the Nanjing Jiangning Development Zone will provide free stay and service to Israeli companies for nine months so they don't need to worry about the logistics while they go through their Proof-of-Concept stage. We will connect them with local companies as well and help them form partnerships. They will get a deep understanding of the Chinese market and make connections and can even finish the POC stage in China after that," said Wang. "China has a big population and there are many opportunities both in its market and in capital investment. In the past, Chinese funds couldn't go public before making a profit, but now they can and this creates more capital and presents additional new opportunities to create cooperation with Israel."