Protests escalate in Jerusalem and Tel Aviv as discontent from government's response to Covid-19 grows
During Saturday's protests, police used water cannons to disperse the crowd of 1,500 people around Netanyahu's residence, while in Tel Aviv, police used tear gas to try to stop the demonstrators from marching through the streets and blocking traffic
Israeli police made dozens of arrests following mass, anti-government rallies held in Jerusalem and Tel Aviv on Saturday night. Thousands of protesters gathered at Charles Clore Park in Tel Aviv and in front of the Prime Minister's Residence in Jerusalem with signs reading "Out of touch. We're fed up," in response to what they see as a bungled government response to the economic fallout from the coronavirus crisis.

It was the second week of demonstrations against Prime Minister Benjamin Netanyahu government's response, which critics say has provided too little assistance and doesn't offer a safety net for hundreds of thousands of self-employed workers and business owners to weather the crisis.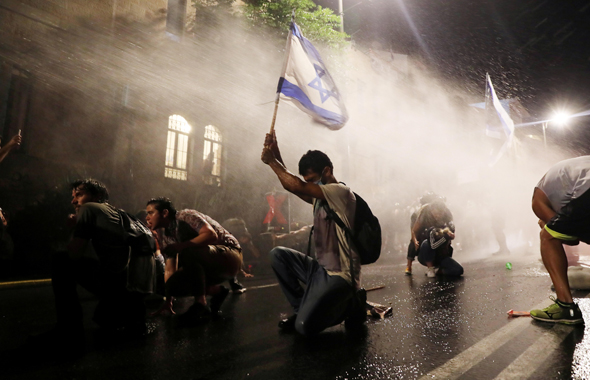 Protests in Jerusalem. Photo: Reuters
Israel Police said 13 protesters had been arrested at Habima Square in Tel Aviv and 15 demonstrators had been detained at Paris Square in Jerusalem. Police said they will ask the court to extend the remand of the protester who attacked an officer in Jerusalem and six demonstrators accused of damaging property during the rally in Tel Aviv.
During Saturday's protests, police used water cannons to disperse the crowd of 1,500 people around Netanyahu's residence, while in Tel Aviv, police used tear gas to try to stop the demonstrators from marching through the streets and blocking traffic.
Israel appeared to have largely contained a first wave of coronavirus infections earlier this year, but a reopening that critics say was hasty sent infections soaring and the country has begun to reimpose new restrictions on gatherings. The crisis has battered the economy and sent unemployment skyrocketing.
Israel's coronavirus death toll reached 400 on Saturday, with the Ministry of Health announcing that on Friday 1,595 people tested positive for Covid-19. The number of active patients currently ill with the disease has climbed to 27,502, with the number of confirmed Covid-19 cases since the start of the outbreak now standing at 49,054. The contagion rate continues to hover just above 7%.